A brand new NFL season is upon us and just like every year the excitement levels are always up at the beginning of the year! We take a look at some players who have been generating a lot of buzz in recent months in the hobby community…
Trevor Lawrence, QB, Jacksonville Jaguars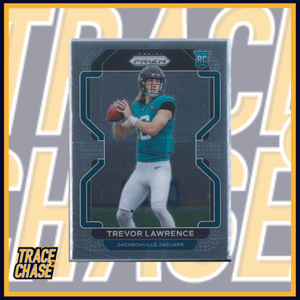 It was a mediocre rookie season for Lawrence who quickly went from being the favorite to win the Rookie of the Year award to a mere afterthought, eventually showing some flashes at the end of the season to justify the pre-season hype. His recent price mark clearly shows that he should be viewed as a buy low breakout candidate in 2022 and we really wouldn't be surprised if he takes a MASSIVE step forward this season or if he looks like the clear-cut best rookie in the 2021 class by the end of this season. Jaguars' head coach Doug Pederson s a big fan and he made that clear the minute he stepped foot in Jacksonville on February 5, immediately shifting the focus to the team's No. 1 overall pick from 2021. Additionally, the Jaguars spent a lot of money this offseason building their offense around Lawrence's growth and potential, first singing WRs Christian Kirk and Zay Jones to contracts worth a combined $51.5 million while also investing heavily in protecting the young signal-caller, extending left tackle Cam Robinson and signing right guard Brandon Scherff in free agency. All signs out of training camp point to Lawrence seeming comfortable and confident heading into year 2 so we should expect a spike in his card sales right off the bat as long as his strong offseason translates to more wins.
JuJu Smith-Schuster, WR, Kansas City Chiefs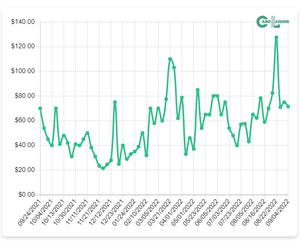 One of the hottest additions of free agency, JuJu is off to Kansas City, where he should quickly emerge as a high-volume target for Patrick Mahomes now that Tyreek Hill is out of the picture. His production has declined the last couple years, with injuries limiting him to only five games last season due to a shoulder injury. Head coach Andy Reid had actually been trying to reportedly get JuJu since last offseason and the explosive WR has already made some impressive plays at camp; the Chiefs probably have the best offensive line around the league this year and with Travis Kelce drawing most of a defense's attention, Smith-Schuster could break out like he did in 2018 alongside Antonio Brown. His Panini Prizm PSA 10 has been on the rise in the last few months but it is still reasonably priced and the window of opportunity seems to be wide open as long as he bounces back.
Kyle Pitts, TE, Atlanta Falcons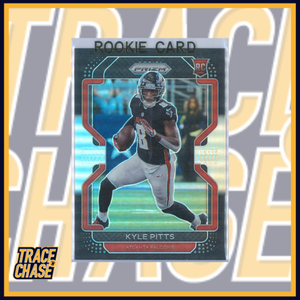 The tight end position has changed dramatically the last few years so that they are now seen as a receiving threat rather than an extra blocker and the numbers absolutely prove that as last year Pitts averaged more yards per route run than guys like Deebo Samuel, Justin Jefferson, Davante Adams, Tyreek Hill, or any other receiver or tight end you can think of. Rookie tight ends simply don't do what Pitts did in 2021 as only three tight ends in NFL history have garnered a higher percentage of available receiving yards around the league during their rookie season than him, Rob Gronkowski and Tony Gonzalez. The Falcons' offense is shaky at best with Marcus Mariota running the show and a third round rookie as the backup so he might not be able to reach superstar elite level just yet. Still, Pitts looks like a very reasonable investment at this point, especially since he hasn't reached superstar status yet.
Kadarius Toney, WR, New York Giants 
The Giants seem to be in as good of a place as they've been in quite a while but no one can guarantee that the whole situation wont blow in new head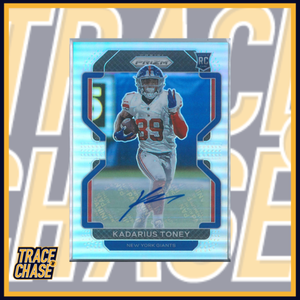 coach's face (Brian Daboll), especially since he is inheriting a roster with many sins of the past. Kadarius Toney endured an up-and-down rookie year but showed flashes of how special he could be with the ball in his hands. All signs point towards the Giants running the ball with Barkley and maximizing the talent of Toney who should have a breakout year as long as he is able to remain healthy…
J.K. Dobbins, RB, Baltimore Ravens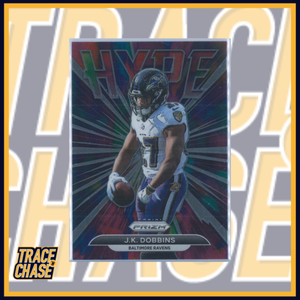 Dobbins played in a shared backfield as a rookie in 2020, and he then missed the entire 2021 season with a torn ACL, while his status for Week 1 this year is uncertain. Still, the former Ohio State back should be the featured option in an always-busy Ravens backfield and he is someone that could very well explode as the season unfolds! He showed great flashes in 2020 with a 6.0 yards per carry average and 13 total touchdowns and with Baltimore ready to be doubling down on their run-first approach the situation looks promising.
Chase Young, DE, Washington Commanders
The Defensive Rookie of the Year in 2020 on a 7-9 Washington team that somehow won the NFC East, Young had 1.5 sacks and just four quarterback knockdowns across nine games before tearing his right ACL last year but we already have a meaningful sample of him playing at an extremely high level, both at Ohio State and during his rookie campaign so the ceiling remains high. Young won't be ready to start the season, but he remains one of the league's best pass-rushers and he could very well hit new highs for the Commanders once he is back.
And a Rookie:
George Pickens, WR, Pittsburgh Steelers
The Steelers saw Big Ben call it a career this offseason and GM Kevin Colbert officially retired after April's draft but the team inherited two rookie receivers with great upside in second-round pick George Pickens and fourth-round pick Calvin Austin. In recent years, Pittsburgh has been able to find capable receivers outside of Round 1 in Chase Claypool (2nd round, 2020), Diontae Johnson (3rd round, 2019), JuJu Smith-Schuster (2nd round, 2017) and Antonio Brown (6th round, 2010) among other so there is reasonable expectation that Pickens could very well blossom in their rookie year playing in a very structured environment. Pickens fell into the second-round due to some injury concerns, but his talent is undoubtedly first-round worthy, he has already been impressive in the preseason, while starting QB Mitchell Trubisky already trusts him.
Honorable Mention: Rashod Bateman, D'Andre Swift, Saquon Barkley, Trey Lance, Michael Thomas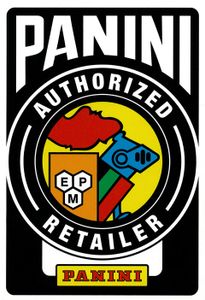 Trace 'N Chase is a proud Panini Authorized Retailer and carries a wide lineup of NFL trading cards and memorabilia!
Keep up with all products, blog posts and news posted on our website and make sure you visit our eBay shop as well!
Follow us on Facebook, Instagram, Twitter and TikTok and subscribe to our YouTube channel!