Malcolm Griffin and Jermaine Love visited Trace 'N Chase recently before heading back home after completing a successful year with PAOK B.C. of the Greek Basket League.
Griffin played high school basketball at Hyde Park Career Academy at Chicago, Illinois where he led his team to a 27–5 mark as a senior averaging 17.0 points, 7.0 assists and 5.0 rebounds per game. He then attended Toledo University where he stayed until 2011 before moving to Fresno Pacific where as a junior he played in 30 games, making 29 starts for the Sunbirds and earning 1st team NCCAA All-American and 1st team All-PacWest honors, finishing fourth in the league in scoring and leading the PacWest in assists. As a senior he was a 1st team All-American and All-Conference once again, leading the Pacific West Conference in points, assists and steals.
After going undrafted in the 2014 NBA draft, Griffin played in Morocco and Tunisia before joining BK Liepājas Lauvas of the Latvian League, leading the league in assists and being named as the Import Player of the Year and Baltic League Defensive Player of the Year by the Eurobasket.com website. He then moved to Greece and Kolossos Rodou B.C where he led the Greek Basket League in scoring, finishing third in assists and sixth in steals. After a quick stop with Zenit Saint Petersburg of Russia he returned to Greece and joined AEK Athens, winning the 2019 FIBA Intercontinental Cup. Another quick stop with Hapoel Jerusalem of the Israeli Premier League followed before returning to Greece again and Kolossos Rodou B.C. this time, while last summer he moved on to PAOK B.C, his third Greek club.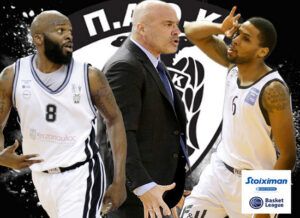 Jermaine Love meanwhile attended Rich East High School, in Park Forest, Illinois, where he earned All-Conference honors in basketball and was also a member of the conference champions in track and field. He also played for Prairie State College where he became the school's first All-America selection in men's basketball and at University of Illinois at Springfield where as a senior he averaged 16.5 points, 4.8 rebounds, and 1.7 assists per game. Love started his overseas career by moving to Lithuania to play for BC Palanga, BC Perlas, BC Lietkabelis and BC Nevėžis of the Lithuanian Basketball League. He then moved on to Trefl Sopot of the Polish Basketball League where he went on to average 13.6 points, 3.3 rebounds and 3.0 assists per game, before joining Holargos B.C. of the Greek Basket League, a team that got promoted and played at the top-tier level Greek Basket League for the first time in its history. In Cholargos, Love played for Coach Aris Lykogiannis and the team reached the Greek Basket League playoffs and ranked 8th in the final league standings. After starting the 2019-2020 campaign with Italian club Scaligera Verona, Love returned to Greece and signed with Kolossos Rodou B.C. where he reunited with Coach Lykogiannis and then finished out the season with Israeli club Hapoel Holon where he averaged 11.9 points, 3.1 rebounds and 2.6 assists. On July 31, 2020, Love signed with PAOK B.C. of the Greek Basket League where he had the chance to collaborate with Coach Lykogiannis for their third time, leading PAOK in scoring with 13.0 points and adding 2.7 assists and 1.0 steal, helping the team finish fifth in what was deemed an extremely successful season.
Griffin and Love talked extensively about the difference of European basketball compared to the NBA, the challenges of playing in empty arenas due to the Covid-19 pandemic, Kobe Bryant, the competition level at the Greek Basket League and much more.
Keep up with all products, blog posts and news posted on our website.
Follow us on Facebook, Instagram, Twitter and subscribe to our YouTube channel!