Coach Savvas Kamperidis of Aris B.C. dropped by Trace 'N Chase last week and had the chance to discuss a variety of topics including NBA, Summer League, the challenges of coaching and playing in Greece against legendary basketball icons like Dimitris Diamantidis and Vasilis Spanoulis.
Kamperidis has a long tracking record as a player, first with MENT B.C. from 2000 to 2005 at the A2 Greek Basketball Division, with the team managing to get promoted to Division I at the end of the 2003-04 season. He averaged 11.6 points, 4.4 rebounds and 4.0 assists in 22 games next year, pushing Aris B.C to sign him to a one-year contract in 2005. Aris managed to secure the third place in the league and the participation to the EuroLeague after fifteen years, while the team also reached the final of the ULEB Cup against Dinamo Moscow.
He then returned to the A2 Championship with Iraklis B.C. and then moved on to Ionikos Lamias B.C. and Ikaros of Serres B.C. before ending his professional career as a player in 2012.
He immediately pursued a career in coaching, earning himself a position as an assistant coach with Aris and collaborating with Panagiotis Giannakis, Dimitris Priftis, Vangelis Aggelou, Milan Minic and Giannis Kastritis, while in 2019, he was promoted to head coach duties.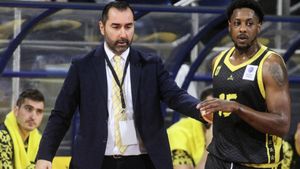 Coach Kamperidis had the chance to coach this year two-time NBA champion with the Heat and NCAA champion with the Kansas Jayhawks Mario Chalmers, with the team securing to finish the season successfully in the midst of a pandemic that has challenged sports and professional athletes the last year.
Keep up with all products, blog posts and news posted on our website.