Coach Thanasis Molyvdas showed up at Trace 'N Chase this week with his very own personal collection of basketball cards from the 90's!!
Thanasis is a product of the well-known "ASTERIA" Basketball Academy, founded by legendary basketball personality Ted Rodopoulos, and he has coached at all levels, from mini basketball to men's and national teams. He started his coaching career as a head coach of the basketball team in the University of Greenwich in UK and he has then been an assistant coach and scouting & video coordinator for multiple teams of the Greek Basketball Division I, including Panellinios BC, Aris BC and Ifaistos Limnou BC, as well as for Zalgiris Kaunas of Lithuania in 2013-2014 and Al Riyadi Beirut of Lebanon in 2017-18. His long list of accolades includes advancing to the 2009 EuroCup's Top-16 and making it to the 2010 EuroCup's Final Four in Vitoria, Spain with Panellinios BC as an assistant coach, while he reached the 2017 Champions League Top-16 and has been a 2014 & 2017 Greek Cup Finalist with ARIS BC, also as an assistant.
Moreover, he has been the scouting & video coordinator for the men's Greek National Basketball team, while running Coach Ted's Salonica Basketball Camp (www.sbc.gr) from 1998 since today and participating as a coach in Mike Kress' Basketball Camp in Kapfenberg & Amstetten in Austria in 2008, 2010 & 2014.
Thanasis shared with us a few basketball stories from Greece and the NBA and most notably the transformation Brook Lopez endured in his final year in Brooklyn with the Nets. Under the leadership of Kenny Atkinson and Sean Marks and the guidance of assistant coach Chris Fleming (currently with the Bulls), the team focused on player development and BroLo, went from shooting 0.2 triples the previous season to 5.2 per game in the 2016-17 season.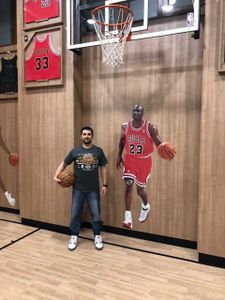 With the NBA basketball season in full swing we look forward to having Coach Molyvdas back pretty soon!
Keep up with all products, blog posts and news posted on our website.