The Navarino Challenge is an annual sports event that aims to promote an active and healthy lifestyle through various athletic activities. It brings together athletes and enthusiasts from all over the world to engage in a weekend of sports and wellness, fostering camaraderie and competition.
For another year silver Paralympian, world champion and European discus champion Makis Kalaras together with Georgia "Jo" Kaltsi, wheelchair basketball & fencing champion, showcased their incredible skills, proving that talent knows no boundaries. The event, powered by Trace 'n Chase, highlighted the importance of accessibility and inclusion in sports embracing diversity on the court.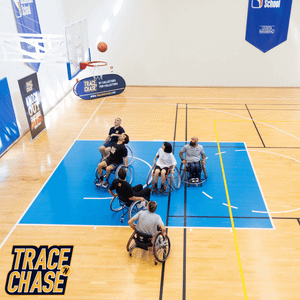 The indoor basketball court, often hailed as a symbol of unity and teamwork, became the stage for a different kind of game – one where abilities and disabilities merged seamlessly. Wheelchair players of the Greek National Team with their unmatched spirit, shared the court with sports fans reminding everyone that the love for sports transcends physical limitations.
Their effort and determination sent a powerful message: disability does not define one's potential, and with the right support and opportunities, anyone can achieve greatness.
Powered by Trace 'n Chase, a company committed to promoting inclusivity in all sports, this event bridged the gap empowering athletes with disabilities but also inspiring a new wave of sports enthusiasts to pursue their passions fearlessly, breaking down barriers and creating a world where every individual, regardless of their abilities, can enjoy the thrill of competitive sports.
The demonstration at Navarino Challenge showcased more than just a basketball game; it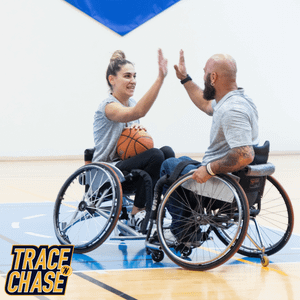 underscored the transformative power of inclusive sports which not only fosters physical well-being but also nurtures mental resilience, boost self-confidence, and promote social integration. Events like these challenge societal norms and encourage communities to embrace diversity and celebrate differences, all while inspiring conversations about inclusivity, accessibility, and equal opportunities, sparking a collective effort to make sports accessible to everyone, regardless of their physical abilities.
As we reflect on the remarkable basketball demonstration that unfolded at Navarino Challenge, it serves as a reminder that inclusivity should be at the heart of every sporting event. The dedication of the wheelchair players and the members of the Greek National Team, combined with the support of organizations like Trace 'n Chase, paints a promising picture for the future of sports where barriers will continue to crumble, and athletes of all abilities will stand side by side, united by their love for the game.
Keep up with all products, blog posts and news posted on our website.
Follow us on Facebook, Linkedin, Twitter, Instagram and TikTok and subscribe to our YouTube channel!