In episode 2 of "The Show", Vassilis Skountis seizes the opportunity to talk all things basketball and more with sports journalists Dimitris Karydas and Dora Panteli, in a conversation that brings together almost 100 years of broacasting experience and never-before-told stories!
Watch the full interview here: https://youtu.be/Gs9jQoqdHNQ
Dimitris Karydas was born in Maroussi where he continues to reside to this day faithfully supporting his local basketball team, Maroussi B.C. He wrote his first short article in a sports newspaper in April 1979 and has been involved in sports reporting ever since. He has worked in many newspapers and magazines, was a member of the Mega Channel sports department from the first day of the station until 1996, and from 1998 until today he comments on basketball games on the Nova channel.
Dora Panteli meanwhile is a former basketball player and a current basketball analyst on television. Her athletic career lasted fifteen years while playing for 8 professional clubs. Panteli has an associate's degree in science and premedicine, she completed four years of studies with a degree in English literature while she also studied postgraduate clinical psychology. She comments and analyzes basketball games on television for Nova Channel, while on May 19, 2019 she became the first woman to describe a EuroLeague match in Greece!
Stay tuned for more episodes from "The Show" by Trace 'N Chase coming soon…!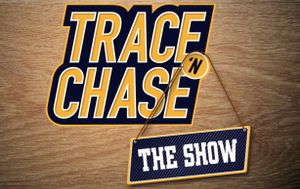 Keep up with all products, blog posts and news posted on our website.
Follow us on Facebook, Instagram, Twitter and TikTok and subscribe to our YouTube channel!