Longtime professional basketball player Giannis Giannoulis visited Trace 'N Chase recently and had the opportunity to share many of his stories from his vast experience playing at a top level for over 25 years!!
Born in Toronto, Canada, Giannoulis moved to Greece when he was eight years old and began playing youth basketball with the junior teams of Filathlitikos Karditsa and Ampelokipoi before joining the junior team of PAOK B.C. and winning the Greek U-18 Greek championship in 1994. He then signed his first professional contract with PAOK B.C., winning the Greek Cup in 1995 and 1999 and becoming an All-EuroLeague Second Team member in the 2000–01 season. Greek powerhouse Panathinaikos B.C. then acquired him and Giannoulis won the EuroLeague in 2001–02 under the guidance and leadership of legendary Serbian coach Želimir "Željko" Obradović. The 6' 10" center then had a successful training camp with the Toronto Raptors during the 2002–03 NBA preseason and was on the gasp of becoming the first ever Toronto-born individual to play with the Raptors, but the bureaucracy involving the NBA and the lack of what is being called today "a disabled player exception" didn't allow him to stick with Toronto.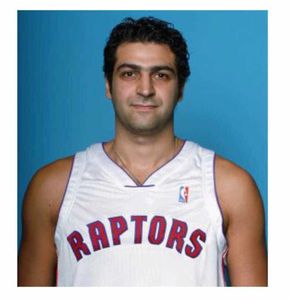 After a short stint in the Continental Basketball Association, he returned to the Greek League and played with Panionios B.C., participating in the EuroCup in the 2007–08 season and in the EuroLeague in the 2008–09 season, followed by stops with Unicaja Baloncesto Malaga, Kyiv-Basket, CDB Sevilla and Aris B.C. During his entire career, he played in the EuroLeague for eight seasons and in 94 games, averaging 6.7 points and 4.1 rebounds per game.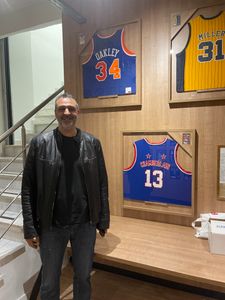 A member of the the junior and senior national teams of Greece, he played at the 1993 FIBA Europe U-16 Championship, where he won a gold medal, at the 1994 FIBA Europe U-18 Championship and at the 1996 FIBA Europe Under-20 Championship, while he competed with the senior national team at the 1997, 1999 and 2001 EuroBasket, playing in total of 63 games.
Giannis remains active up to this day and at the age of 44, playing semi-professional basketball at the local basketball divisions around Greece (G Ethniki) while coaching young kids and staying in touch with the game he still loves.
Make sure you visit a couple websites he is currently operating for general news and even more basketball memories at https://mycity.com.gr/ and www.g-point.gr
Keep up with all products, blog posts and news posted on our website.