Professional basketball player Vassilis Christidis took a break from his training recently to stop by Trace 'n Chase and discuss his love and commitment to the sport of basketball all while growing up idolizing Pau Gasol and Tim Duncan!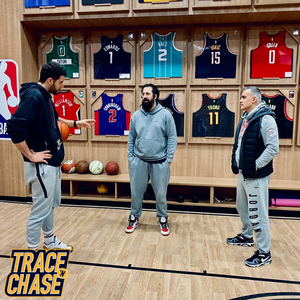 Christidis started playing basketball with the youth teams of MAS Mantoulidies winning the 2013-14 Panhellenic children's championship while claiming the title of MVP of the competition. He signed his first professional contract with Aris B.C., debuting in a Greek League game against Promitheas Patras before joining Olympiacos B.C. for the 2019–20 season where he averaged 10.0 points and 6.2 rebounds playing in the Greek 2nd Division.
On December 21, 2021, Christidis was loaned from Olympiacos to Peristeri, returning to the Greek Basket League where under coach Milan Tomić he averaged 7.0 points, 4.6 rebounds, 1.3 assists and 0.3 blocks. On July 7, 2022, Christidis moved to PAOK B.C., becoming a part of a young team that has raised eyebrows this year both in Greece and in Europe, advancing to the top-32 of the FIBA Champions League.
As a member of the Greek junior national teams, Christidis played at the 2014 FIBA Europe U-16 Championship while he won the gold medal for Greece at the 2015 FIBA European U-18 Championship and the 2017 FIBA Europe U-20 Tournament.
Keep up with all products, blog posts and news posted on our website.
Follow us on Facebook, Linkedin, Twitter, Instagram and TikTok and subscribe to our YouTube channel!