Renowned former professional tennis player and current coach Konstantinos Economidis took a break from his training sessions in order to give the Trace 'N Chase team his perspective on recent developments in the area of tennis in Greece and the rise of Stefanos Tsitsipas and Maria Sakkari at the world stage.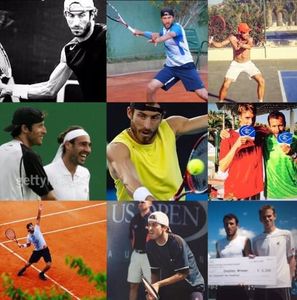 Born in Thessaloniki, Greece, Konstantinos began playing tennis at the age of six and in an era where tennis infrastructure and playing conditions of the sport in Greece were non-existent he made a name for himself, helping team Greece to get promoted to the Europe/Africa Zone Group I in the Davis Cup in 2001 and becoming the Greek player with the highest position in the world ranking ever at No. 226, while his personal best position was in February 2007 as the world's No. 112.
He is the first Greek to ever play on the main board of a Grand Slam tournament when back in 2002 at Wimbledon he lost in the first round in a 5-set match. In 2007, he defeated Australian Chris Guccione in the first round of Roland Garros but was then defeated by Spaniard Tommy Robredo. In 2008, he won the title in the double of the Belgrade Challenger Tournament, with teammate Flavio Cipolla, while he was a finalist in the Athens Challenger Tournament with teammate Aleksandar Jakupovic and also reached a semifinal in the Las Vegas tournament with teammate Marcos Baghdatis.
The leading Greek tennis player until the launch of Stefanos Tsitsipas, Konstantinos has only great things to say about the quality of Stefanos, his work ethic and his resilient character, as well as the difficulties that he and his family both had to overcome in order to be among the Top-5 of the world at such a young age.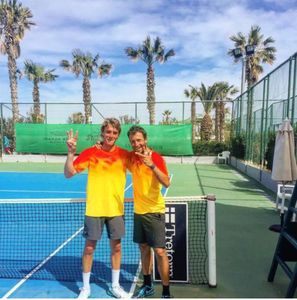 Konstantinos also expressed his appreciation for fellow Greek professional Maria Sakkari and her team, especially for taking all the right steps in order to built her career, which now pays off.
After retiring in 2009, Konstantinos has settled in Thessaloniki where he started coaching, first at the premises of the Nautical Club of Thessaloniki and then in various tennis clubs of the region, making sure that everyone can learn the secrets of the sport.
Konstantinos was recently honored by the International Tennis Federation (ITF) with the Davis Cup Loyalty Award. The award was established in 2013 and is given to tennis players – current or former – who have represented their country in more than 20 matches in the tournament. Economidis has taken part – from 1996 to 2011 – in 37 Davis Cup matches, representing Greece.
You can follow Konstantinos on Instagram and on Facebook!!!
Keep up with all products, blog posts and news posted on our website.
Follow us on Facebook, Instagram, Twitter and subscribe to our YouTube channel!