Fresh off dropping 35 points in a win against Panathinaikos for the Greek Basket League, Canadian professional and team captain for Aris B.C., Olivier Hanlan stopped by Trace 'N Chase to talk about his career in Greece and NBA basketball in general.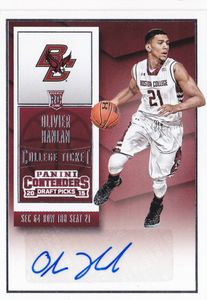 Born in Quebec, Canada, Olivier attended New Hampton School in New Hampshire for his junior and senior years where he earned first team All-NEPSAC AAA team honors as a senior. He played college basketball for the Boston College Eagles of the NCAA and was the first player for Boston College since Troy Bell to win conference rookie of the year honors! As a freshman he started in all 33 games and scored 15.4 points per game, leading his team to the quarterfinals in the 2013 ACC Men's Basketball Tournament. Hanlan set an ACC Basketball Tournament freshman record for scoring with 41 points against Georgia Tech on March 14, 2013 and he went on to win ACC rookie of the year. A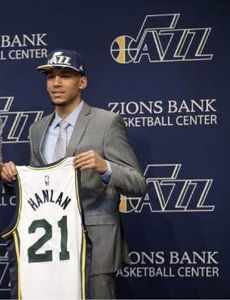 charismatic scorer, he averaged 18.5 points in his sophomore year and 19.5 in his junior year before declaring for the NBA Draft in 2015 where he was selected with the 42nd overall pick in the by the Utah Jazz. He joined the Jazz for the 2015 NBA Summer League where he averaged 4.1 points and 2.6 rebounds in eight games before moving on to play in Europe, first with Zalgiris Kaunas of Lithuania and then with joined Le Mans Sarthe Basket of the LNB Pro A in France and the Telekom Baskets Bonn of the Basketball Bundesliga in Germany, with a stint in Austin with the Toros of the G League in 2017-18.
In 2019, Hanlan signed with newly promoted Iraklis Thessaloniki of the Greek Basket League and after a productive season averaging 16.3 points, 3.5 rebounds, and 3.4 assists per game, he extended his contract with the Greek club for one more year, being named as one of the three team captains of the team, averaging 13.4 points (shooting 34.6% from beyond the arc and 39.2% from the field), as well as 2.8 assists.
Olivier was a member of the Canadian Under-17 national team that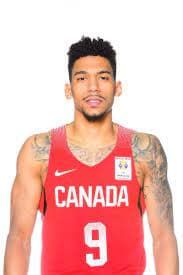 finished third in the 2010 FIBA Under-17 World Cup in Germany, leading his team in scoring in the bronze medal game against Lithuania, with 15 points. He was also a member of the Canadian Under-19 national team that competed in Latvia, at the 2011 FIBA Under-19 World Cup, while in August 2017, he was a member of the Canadian Senior Men's National Team that competed at the 2017 FIBA AmeriCup, scoring a team-high 10 points, to go along with three rebounds and three assists, in a loss to the U.S. Virgin Islands. Tin November 2017, he was a member of the Canadian Senior Men's National Team that competed at the 2019 FIBA Basketball World Cup Americas qualifiers.
A member of Wasseman Agency, Olivier had the chance to spent this past summer in Los Angeles training with NBA superstars like Russell Westbrook, Shai Gilgeous-Alexander and Steven Adams! A fan of Steph Curry and Kobe Bryant, Hanlan was the MVP of the Greek Basket League in the first game of the season, scoring 35 points with 4 triples, 5 rebounds, 2 assists and 1 steal and leading Aris B.C. in an upset victory over Greek Champ Panathinaikos B.C. with 81-71!!
Keep up with all products, blog posts and news posted on our website.
Follow us on Facebook, Instagram, Twitter and subscribe to our YouTube channel!