Fresh off another winning season in the Chinese Basketball Association with the Beijing Ducks, Haris Markopoulos dropped by Trace N' Chase to share his vast experience both as a player and a coach at the highest level.
Markopoulos grew up playing basketball from an early age becoming somewhat of a wonder-kid as a teenager and bombarding opponents with 50 and 60-point games on a regular basis. Having won the Greek U-18 Championship during the 1997-98 season playing along Lazaros Papadopoulos for Iraklis B.C., he was promoted to the men's team on a roster that featured legendary Greek guard Dimitris Diamantidis and big man Sophocles Schortsanitis.
He won the Gold medal in the World Schools Championship Basketball held in Israel in 1999 playing alongside Greek guard Nikos Zisis and was a member of all junior national teams of Greece. That very summer he squared off against Tony Parker and the French National team in a game where he scored 33 points against TP's 34. He won the bronze medal at the 2000 FIBA Europe U-18 Championship where he averaged 13.6 points, 5.1 rebounds, and 4.5 assists per game, playing alongside Vasilis Spanoulis and Nikos Zissis at the tournament, as well as the silver medal at the 2000 Albert Schweitzer Tournament where he was the MVP of the tournament while earning All-Tournament Team Honors.
Markopoulos played professional basketball at the Greek top-tier level Greek Basket League with Iraklis B.C., Makedonikos, and PAOK B.C.. As a member of Iraklis he had the opportunity to participate in the European 2nd-tier level, the FIBA Saporta Cup competition, and in the European top-tier level, FIBA SuproLeague competition but his basketball playing career ended prematurely, due to a rare health situation that almost left him paralyzed and forced him to quit at the age of just 23 years old.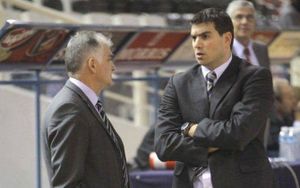 Haris immediately turned to coaching, becoming an assistant coach for his father, longtime head coach Soulis Markopoulos with PAOK B.C. and Aris B.C. before taking over as a head coach of Koroivos B.C. of the Greek Basket League club from 2014 until 2016 and then A.E. Doxa Lefkadas with great success.
Markopoulos moved on to the Chinese Basketball Association in 2017 becoming the assistant coach for the Beijing Ducks who were lead by fellow Greek coach Yannis Christopoulos. The Ducks have been one of the top-tier teams in China in recent years and Haris had the chance to coach Chinese superstar Jeremy Lin as well as former NBAers Justin Hamilton and Jordan McRae the last couple seasons.
Keep up with all products, blog posts and news posted on our website.
Follow us on Facebook, Instagram, Twitter and subscribe to our YouTube channel!