Formula 1 has announced an exclusive multi-year partnership with Topps, the global leader in trading cards and collectibles, to become the Official Sticker and Trading Card Licensee around the world.
The partnership will see a range of physical and digital collections featuring all 20 drivers and ten teams in the 2020 season, as well as commemorating the sport's most iconic drivers, teams and moments, with collectible items available to suit fans of all ages. Some collections will also feature all drivers and teams from the FIA Formula 2 Championship, as we celebrate the next generation of F1 stars.
Topps has designed a range of innovative card products, including the new 'Turbo Attax' trading card game, which becomes part of the popular Attax brand that already boasts officially licensed football, baseball and wrestling collections.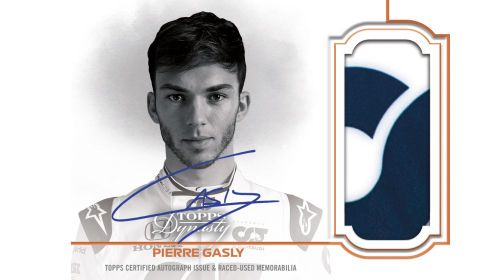 Additional premium sets will include Topps Dynasty F1, which will feature genuine driver autographs and actual pieces of driver race-worn suits and the Topps Chrome F1 collection, one of the most popular trading card products worldwide. F1 Topps NOW cards will feature regularly on topps.com in limited print-on-demand quantities, which offers fans the chance to create a collection as unique and unpredictable as the racing on the track.
The first F1 Topps NOW card celebrates Pierre Gasly's maiden F1 victory, after his dramatic and emotional win in the Formula 1 Gran Premio Heineken D'italia 2020 at Monza, and is available now for fans to purchase.
An action-packed sticker album is also due to be released later in the 2020 season, bringing fans closer to the drivers and the cars, with insights and statistics filling every page.
The partnership is the latest in a long list of collaborations F1 has launched to celebrate the sport's 70th Anniversary, bringing fans around the world something to commemorate the historic moment.
Director of Digital and Licensing, Frank Arthofer said: "Formula 1 is thrilled to partner with Topps to create our first ever series of licensed trading cards and stickers. Together with Topps and the F1 teams, we can bring the excitement of Formula 1 to new and existing fans. We share a common vision for increasing how F1 can innovate in the collectibles space, and the launch of Topps Official Stickers and Trading Cards will be a key part of that strategy."
David Leiner, Worldwide General Manager for Topps, said: "This is a huge moment for us and something we are so excited to be part of. Everyone knows how exhilarating and exciting the sport of Formula 1 can be, we are delighted to be given the opportunity to bring the pinnacle of motor sport to a wider fanbase."