(Pictured above from left to right, Tony Moumoglou, Lakis Tsavas, Aristeidis Moumoglou, Dio Nikiforos, Ted Rodopoulos and Giorgis Bousvaros)
Longtime basketball coach Ted Rodopoulos was kind enough to visit Trace N' Chase recently, talking about the state of NBA basketball and reminiscing some of the many stories from his interactions with NBA players and coaches in the last 40 years!!
Ted Rodopoulos started basketball at the age of 12 with YMCA of Thessaloniki and then moved to Aris B.C. He was a member of the U-18, U-21, Men and Army National Teams but quit playing at the age of 24 in order to begin his coaching career.
His first coaching job was with the YMCA junior teams and after a stint with Olympus 40 Ekklision of Thessaloniki he returned to YMCA in order to take over the men's team and stayed there for 10 straight years (1965-1975). His contribution was crucial in making YMCA the best basketball team in Thessaloniki for five years in a row.
After securing a scholarship, he moved to USA where he attended classes of Coaching Psychology, Youth Player Development and Basketball Coaching in Springfield College. Upon his return, he guided YMCA to a head-to-head battle for the championship against Greek powerhouses PAOK B.C. and Olympiacos of Piraeus. After YMCA, Coach Ted took over Iraklis B.C., Democritus and PAOK B.C., while at the same time he was a Head Coach for the Greek Youth National Teams for six years and won the 2nd place in the 1975 European Championship with the U-16 National Team.
In 1983, he introduced to Greece what was the first ever Basketball Camp, the SALONICA BASKETBALL CAMP, better known as S.B.C., and as a "continuation" of the camp Coach Ted created his Basketball Academy "ASTERIA" that teaches basketball in a very unique way, something that made the academy famous about all over Greece. Many professional players and coaches have visited his academies including Peja Stojakovic, Nikos Zisis, Dimitris Diamantidis, Lazaros Papadopoulos, Sophocles Schortsianitis, George Sigalas, Steve Bucknell, Lawrence Frank, Mike Cress, Ilias Zouros, Dimitris Priftis, Steve Spencer and Pat Sullivan, while players like Dinos Mitoglou of Olimpia Milano have come out straight out of Coach Ted's programs who has been instrumental in the development of the sport in Greece in the last 50 years.
Coach Ted has visited numerous NCAA Final-4 Tournaments and is a member of the N.A.B.C. since 1978, while he still visits the States at least four times a year in order to attend Coaches' Clinics, team camps in NBA and NCAA, NCAA's Final Four and the All-Star Game. Back in the 90's, he still remembers the day when he was at the Bulls locker room after a regular season game looking for MJ to sign his posters that he later handed out to kids that attended his camp; his "Airness" that used to called coach Ted "The Greek" due to his thick mustache happily signed all of them!!
Coach Ted was extremely kind to contribute to Trace N' Chase's memorabilia collection by gifting a custom made Wilson official ball from the 2012 NCAA March Madness Final Four held in New Orleans with his image on it!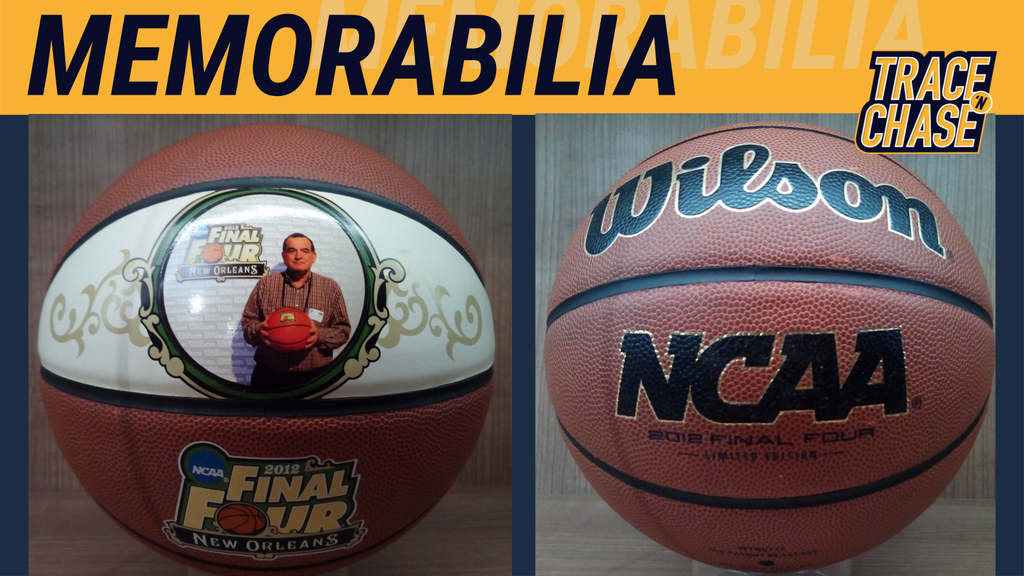 Keep up with all products, blog posts and news posted on our website.
Follow us on Facebook, Instagram, Twitter and subscribe to our YouTube channel!