In Episode 2 of the YouTube Series "The Lost Tapes", powered by Stoiximan, renowned sportscaster and longtime journalist Vassilis Skountis sits down for a thorough talk with Panagiotis Giannakis, reminiscing his short stint with the Boston Celtics before dominating for years in Greece and becoming European Champion, as well as discussing his coaching career and the win against the US Men's Team that forced Mike Krzyzewski to tip the hat to him!
Watch the full interview here: https://youtu.be/xSzqdmOw-mc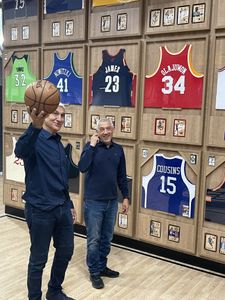 A true floor general, Giannakis began his basketball playing career in Greece, with Ionikos Nikaias B.C., before moving to Greek powerhouse Aris Thessaloniki B.C, where he spent the most important part of his pro playing career. Selected by the Boston Celtics, in the 1982 NBA draft, he stayed in Thessaloniki where he helped lead Aris B.C. to three consecutive EuroLeague Final Four appearances between 1988 and 1990, as well as to a FIBA European Cup (later renamed to Saporta Cup) title in 1993, 7 consecutive Greek League Championships and 6 Greek Cup Trophies.
In the summer of 1993, he transferred to the Greek club Panionios B.C., and a year later, to Panathinaikos of Athens, with whom he won the EuroLeague in 1996. On February 3rd 2008, Giannakis was chosen as one of the 50 Greatest EuroLeague Contributors over the previous half-century by EuroLeague Basketball's Experts Committee.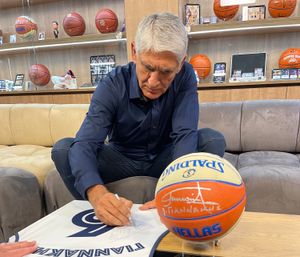 "The Dragon", along with Nick Galis, Panagiotis Fasoulas, and Fanis Christodoulou, was one of the four main stars of the legendary late 1980s Greek National Team that put Greece on the world basketball map. He was Greece's team captain, when they won the gold medal at the 1987 EuroBasket and the silver medal at the same championship two years later. Giannakis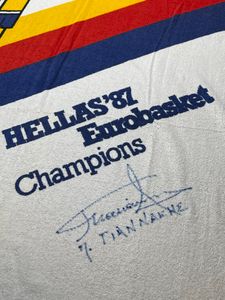 was also an important member of the Greek national team, when they reached the EuroBasket's semifinals in 1993 and 1995, as well as the FIBA World Cup's semifinals in 1994.
After his playing career ended, Giannakis became the head coach of Maroussi B.C., which he led to the forefront of the Greek League. Giannakis was also the head coach of the Greek EuroLeague powerhouse Olympiacos B.C., which he led to the 2010 EuroLeague Final, and of the senior Greek national team. Under Giannakis' guidance, the Greek national team won the gold medal at the 2005 EuroBasket, and the silver medal at the 2006 FIBA World Cup in Japan, where Greece upset Team USA, by a score of 101–95.
Coach Giannakis was kind enough to sign an original towel of the 1987 EuroBasket as well as his jerseys from his days with Aris B.C. and the Greek National team, adding to our collection of sports memorabilia!
His many career highlights and awards include among other:
As a player
EuroLeague champion (1996)
FIBA Saporta Cup champion (1993)
3× FIBA European Selection (1980, 1987, 1990)
50 Greatest EuroLeague Contributors (2008)
7× Greek League champion (1985–1991)
Greek 2nd Division champion (1975)
7× Greek Cup winner (1985, 1987–1990, 1992, 1996)
Greek League MVP (1987)
Greek League Top Scorer (1980)
Greek League Assist leader (1989)
2× Greek Cup Finals Top Scorer (1985, 1988)
He scored 9,291 points in the Greek Basketball Championship (counting all league formats since the 1963–64 season), good for 3rd all-time.
Member of the Eurobasket.com website's European Basketball Hall of Fame, inducted as a player.
He holds the record for national team caps, with 351, with the senior men's Greek National Basketball Team, which is also a record for any European player.
He holds the record for total Greek national team caps, men's and boy's, with 402.
He holds the record, with 5,301 points scored with the senior men's Greek National Team.
He holds the record, with 6,202 points scored in total, with the Greek National Team (men's and boy's)
As a head coach:
2× Greek League Best Coach: (2004, 2006)
Greek Cup Winner: (2010)
2005 EuroBasket: Gold Medal
2006 Stanković Cup:

Gold Medal

2006 FIBA World Championship:

Silver Medal

He is the only person to win the EuroBasket, both as a player (1987 EuroBasket), and as a head coach (2005 EuroBasket).
Stay tuned for more episodes from "The Lost Tapes" coming soon…!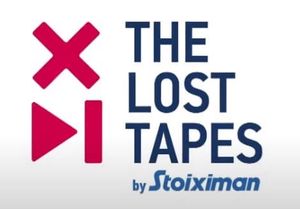 Keep up with all products, blog posts and news posted on our website.
Follow us on Facebook, Instagram, Twitter and TikTok and subscribe to our YouTube channel!