Sports unite people and we were blessed to be present at Costa Navarino on the weekend of October 15-17, supporting the #navarinochallenge and connecting with a ton of amazing Champions and LIFE winners.
Trace 'N Chase is honored to add to our shop's #sportsmemorabilia collection a signed Spalding ball of the "Greek Killer" herself, Evina Maltsi, a longtime Captain of the Women's Greek National Team, a former Olympian and WNBA player, the 2009 Women's EuroBasket MVP and Top Scorer, a 3× Women's EuroLeague All-Star (2007, 2008, 2009) and the current Head Coach of the Antetokounbros academy.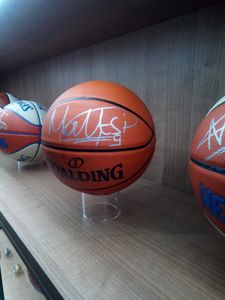 Evina has a long career in European club basketball, having played in Spain, France, Czech Republic, Poland and Turkey besides her native Greece and she has won numerous titles as a player of CJM Bourges, Ros Casares Valencia, USK Praha and Olympiacos.
A longtime captain of Greece's women's national basketball team, having represented her country in several Eurobasket Women, the 2004 Olympic Games and the 2010 FIBA World Championship, she scored 3215 points in 214 games, leading the Greek national team to the fifth place in 2009 FIBA Eurobasket earning the EuroBasket MVP award, a remarkable feat considering that Maltsi was voted the MVP despite the fact that Greece didn't enter the semi-finals. She was also the FIBA EuroBasket 2009 Top Scorer and steals leader, averaging 22.6 points and 3.1 steals per game.
She has been elected to the All-EuroBasket Team two times, the first in 2009 and the second in Eurobasket 2017 in Czech Republic where, at the age of 38, she led Greece to the semi-finals and the fourth place in the tournament, their best ever Eurobasket performance.
Maltsi played for the Connecticut Sun in the 2007 WNBA season. She appeared in 29 games for Connecticut, 26 in the regular season (7 as a starter) averaging 5.7 points, 1.5 assists and 2.5 rebounds per game. She scored a WNBA career high 23 points against the Los Angeles Sparks at Staples Center on 7 July 2007, leading Connecticut in a 110–87 away win. She also played in 3 games in the 2007 WNBA Playoffs where Connecticut lost 2–1 to Indiana Fever in the first round.
After her retirement from basketball in 2019 she remains extremely active in the basketball community and she is currently the Head Coach of the AntetokounBros Academy, a community program that combines basketball training and educational inspiration aimed towards underprivileged young boys and girls aged 12 to 16.
Keep up with all products, blog posts and news posted on our website.
Follow us on Facebook, Instagram, Twitter and subscribe to our YouTube channel!