Panini Unveils Billboard In Times Square During NBA Draft Week To Showcase Unique Partnership!
Panini America, the exclusive trading card partner of the NBA and the world's largest sports and entertainment collectibles company, has announced exclusive, multi-year agreements with projected top NBA Draft Picks and twins, Amen and Ausar Thompson for autograph trading cards and memorabilia in advance of the 2023 NBA Draft. In addition to autograph trading cards and memorabilia, Amen and Ausar will also be featured on Panini NBA packaging and take part in marketing initiatives.
"Early on we identified Amen and Ausar as great players that would be able to translate their game to the NBA while also having a unique and shared story to tell unlike any other NBA Draft Picks waiting to hear their name called on Thursday Night" said Jason Howarth, Senior Vice President of Marketing and Athlete Relations. "Their story and journey was so intriguing and compelling we felt like both Amen and Ausar would be great players to partner with exclusively. It brings a whole new meaning to the idea of dual autograph cards where two players are featured – we are excited to partner with Amen and Ausar and celebrate their Rookie year in unique ways around the globe and in some of our most popular trading card brands".
Amen's and Ausar's journey began at nine-years old when they wrote about their "NBA Dreams" that included daily steps they wanted to take to get better. Their discipline and commitment to pursuing this dream took them both to Pine Crest School in Ft. Lauderdale, FL where they won a High School State Championship before both deciding to join the Overtime Elite League (OTE). In their second season with OTE they teamed up to play for OTE's City Reapers. They are now on the cusp of seeing their dreams become a reality on Thursday night during the NBA Draft. It's also a moment that will make those dreams transform into individual realities as they likely join different NBA Teams and their basketball playing days potentially go separate ways. Those NBA Dreams turned reality will be celebrated on a monstrous billboard in Times Square during NBA Draft Week.
"Partnering with Panini is exciting, especially given that they wanted to work with both Ausar and I as we take this next step in becoming NBA players. Knowing how much we both dreamed of this moment, it's unreal to see it become a reality and know we'll both have our own NBA trading cards," said Amen Thompson.
"Growing up, you dream of being able to have your own Panini NBA trading card. To see that become a reality, and knowing that my brother will have that same experience, and that we also will be featured on Panini NBA products around the world together, is incredibly special," said Ausar Thompson.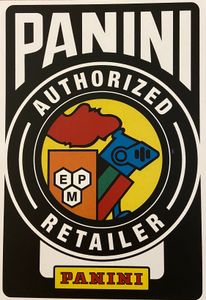 Trace 'N Chase is a proud Panini Authorized Retailer, carries a wide lineup of trading cards and will gladly offer products featuring Amen and Ausar Thompson in the upcoming years!

Keep up with all products, blog posts and news posted on our website.
Follow us on Facebook, Linkedin, Twitter, Instagram and TikTok and subscribe to our YouTube channel!