The Premier League and Panini announced recently a multi-year extension to the Premier League collectibles license granted to Panini in 2019. In the UK, sales of Premier League Adrenalyn trading cards have doubled this year to confirm Adrenalyn as the market-leading brand for trading cards. Panini also has established the iconic Panini sticker album brand as the No. 1 collectible in the UK with Premier League sticker sales last season climbing to the highest level for 15 years, despite the challenges of the pandemic.
Internationally, Premier League collectibles are at an all-time high as Panini continues to leverage the strength of the Premier League brand worldwide thanks to its global network.
Mike Riddell, Panini UK Managing Director, said: "We are proud to be awarded the most prestigious license in the UK, and we relish the prospect of continuing to grow the market in the coming years."
Peter Warsop, Panini Group Licensing Director, said: "Panini has ignited the Football collectibles market in the USA, China and internationally. The Premier League will continue to attract new fans and collectors with Panini enjoying continued substantial growth both domestically and through 60-plus other International markets."
Will Brass, Premier League Chief Commercial Officer, said: "Stickers and trading cards are a great way for fans around the world to engage with the Premier League and its clubs. Panini has been a great partner since becoming the Premier League's official sticker and trading card licensee in 2019, and we look forward to continuing to build our relationship over coming seasons."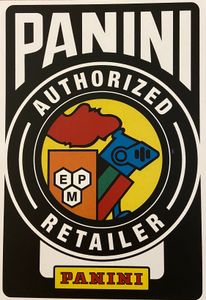 Trace 'N Chase is a proud Panini Authorized Retailer, carries a wide lineup of trading cards and will continue to offer Premier League products throughout the year!

Keep up with all products, blog posts and news posted on our website.
Follow us on Facebook, Instagram, Twitter and subscribe to our YouTube channel!