The biggest sporting event in the entire planet, the 2022 FIFA World Cup, is about to begin and avid fans and collectors have been anxiously waiting for Argentina, Brazil, Belgium, England, France, Spain and the rest of the teams to shine on the playing field! Soccer card investors will be closely looking at the stars of the game while monitoring the upcoming risers and today we will take a look at some of the hottest names in the industry that will possibly put their stamp all over the 2022 FIFA World Cup!
THE STARS:
Kylian Mbappé, Team France: The hype around Mbappé's name has been off the roof for a long time now and the exclusive autograph trading card and memorabilia multi-year recent deal that the French superstar signed with Panini America has helped boost his value even more in the industry! The 2018 World Cup winner would be looking to match Brazil legend Pelé in becoming a champion at his first two World Cups participations which could really skyrocket his stardom at an another level.
Market Value: Steadily peaking for a long time now but there is a high ceiling which justifies buying his cards even now.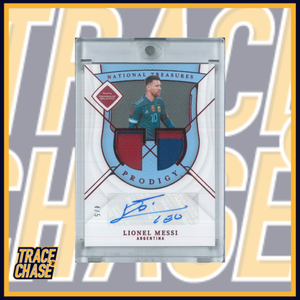 Lionel Messi, Team Argentina: It's pretty clear that Messi will be motivated for one last push at a World Cup medal and the truth of the matter is that if he manages to do so he would solidify himself as one of soccer's greatest players of all time. The Argentinian looks like a safe bet as, even though his career has taken a small hit the last year his fitness and solid touch still makes him look like the best player on the planet.
Market Value: At the end of his career so the hope is that he goes out with an emphatic way that will cement his value for a long time.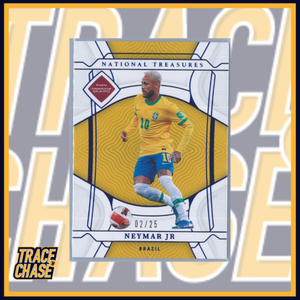 Neymar, Team Brazil: Neymar has been the odd man out in Paris Saint-Germain for quite some time but he is still the main leader for a Brazilian team that is looking to get back to becoming the soccer world champs after 20 years.
Market Value: His card value has been very volatile and this could be the tournament that brings his name back to the elite status he was earlier in his career.
Cristiano Ronaldo, Team Portugal: A lot of turmoil is surrounding C7's name these days and we have seen a small dip in the prices of his cards but the Portuguese star looks poised to prove everyone wrong and even though he has won the European Championship, the leading scorer in men's international soccer hasn't played in a World Cup final, which could put the cherry on the top of his legacy!
Market Value: The value of his cards has slightly gone down recently and the circumstances suggest that he will bounce back so there is room for potentially buying low.
THE RISING YOUNGSTERS: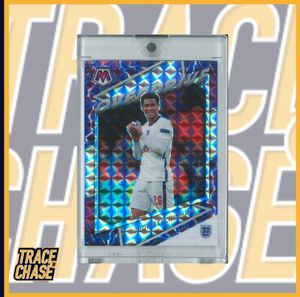 Jude Bellingham, Team England: Bellingham is currently one of the hottest names in world football with Real Madrid, Chelsea and Manchester City all said to be keen on the teenager. He has already been tearing it up at Borussia Dortmund for some time (40 goals in 112 appearances so far) and injuries to England's team will likely force him to start in the midfield for the Lions.
Market Value: Bellingham is the type of player that the hobby loves, a dynamic and fearless athletic stud whose stock is only going to rise even further with more success.
Phil Foden, Team England: Foden is set to play a key role for England in Qatar and he is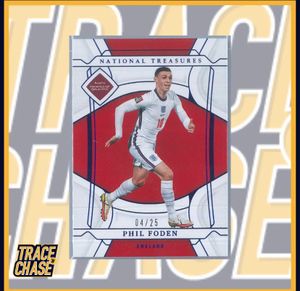 coming in scorching hot after already scoring eight goals and suppling three assists this season all while having already won four Premier League titles with Manchester City as everything screams "superstar" material.
Market Value: Five years ago Phil Foden helped England win the U-17 World Cup, all while earning player of the tournament honors and there is a legitimate chance he repeats the same accomplishments at the biggest stage.
Vinicius Jr, Team Brazil: After having a breakout season last campaign, Vinicius, just like Ronaldo, finds himself in the eye of the storm as this year he has struggled to show signs of maturing and establishing himself as an elite player. The clock is ticking and it will be interesting to see whether he maintains his cool and shows his undeniable flashes of talent at the biggest stage of the world.
Market Value: A lot of people have invested heavily in the young Brazilian in recent years and this is shaping to be a "make or break" situation for him.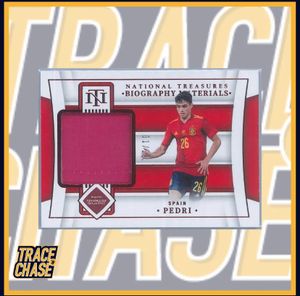 Pedri, Team Spain: The 19-­year-­old central midfielder has long been called the next 'Iniesta' and is undoubtedly one of the most exciting youngsters in world football right now. He already has more than 100 appearances in La Liga and he will be one of Spain's most exciting players in the Qatar World Cup
Market Value: Pedri is another well-known commodity already and as the face of the next generation of talented Spaniards players he is slowly rising to becoming one of the best in the world.

THE ROOKIES
Julián Álvarez, Team Argentina: The 22-year-old has already 11 caps for his country and while he did score 7 goals this year with Manchester City, he is likely to be behind Inter Milan's Lautaro Marinez in the pecking order. Argentina has a longtime tradition of producing soccer magicians and Álvarez is a very promising prospect that has succeeded at all levels so far in his career.
Market Value: The Argentinian winger is well-known in the card market already and he should put his name on the global soccer map in the upcoming World Cup.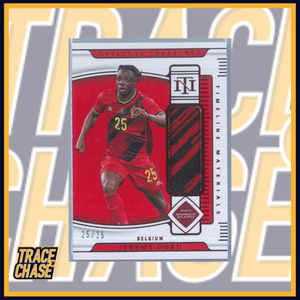 Jeremy Doku, Team Belgium: Doku made his debut for Belgium against Denmark in the 2022 UEFA Nations League and he has quickly become an integral part of the Red devils under Coach Roberto Martinez. The young winger seems to posses a lot of quality and even though his fitness is still an issue as he hasn't played a ton with Rennes this year, he appears to be one of the favorites of the coach which suggests that he will get a chance to impress at the biggest stage.
Market Value: Doku has been in the radar of many collectors lately but he is still a relatively not known prospect and the World Cup could be his welcome party.
Gavi, Team Spain: Pablo Gavi, Spain's Euro 2020 breakout star is the the latest product of a traditional school of world­class midfielders and a lot of eyes will be on him in this World Cup. In 2021, he became his country's youngest ever player at 17 years and 62 days, and Spain's youngest ever scorer, against the Czech Republic as his skill set bringing back memories of Barcelona predecessors like Andrés Iniesta and Xavi.
Market Value: Luis Enrique really likes the kid and he is expected to be one of the breakout stars of the upcoming tournament so the window of opportunity seems to be rapidly closing.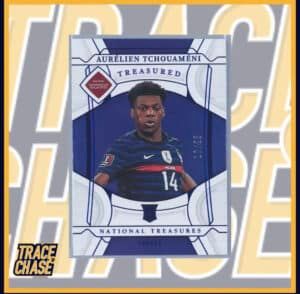 Aurélien Tchouaméni, Team France: The absence of superstars like Karin Benzema, Paul Pogba and N'Golo Kanté has put Les Bleus in a tough position and if they want to succeed in this tournament they will have to count on their young players and Tchouaméni seems to be an emerging leader for Didier Deschamps' squad. It's likely that Tchouaméni pairs Youssouf Fofana to reconstruct AS Monaco's midfield pivot from last season and France will be missing the experience but will load up on talent.
Market Value: The pressure is in for Tchouaméni but the kid has said all the right things so far and is poised to prove a lot of people wrong after the last couple months where he has struggled to fit in with Real Madrid.
Honorable mention: Dusan Vlahovic, Rodrygo Goes, Nuno Mendes, Jamal Musiala, Ricardo Pepi (surprisingly cut from Team USA), Charles De Ketelaere, Enzo Fernandez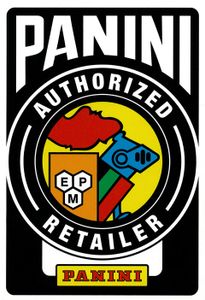 Trace 'N Chase is a proud Panini Authorized Retailer, carries a wide lineup of trading cards and memorabilia and will be offering all products with exclusive autograph and memorabilia from the current and future stars of the league!

Keep up with all products, blog posts and news posted on our website.

Follow us on Facebook, Linkedin, Twitter, Instagram and TikTok and subscribe to our YouTube channel!