Sports competitions are often filled with thrilling moments and intense displays of talent, and the Jr. NBA Greece Final 4 was no exception. Among the various events held during this highly anticipated basketball tournament, "The Knockout Challenge" final by Trace 'n Chase proved to be a crowd favorite, while, in a display of exceptional skill, Stelios from the Dallas Mavericks emerged as the undeniable champion, capturing the hearts of spectators and leaving an indelible mark on the event.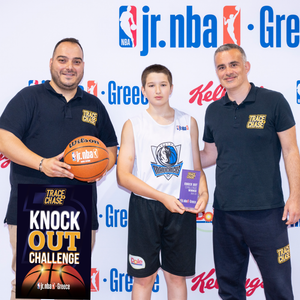 The Knockout Challenge, an exhilarating competition within the Jr. NBA Greece, brought together some of the most promising young basketball shooters around Thessaloniki. The Final Stage was comprised of 30 winners from the regular season stage that showed up and happily showcased their shooting accuracy, agility and composure under pressure in an elimination-style format. The atmosphere was electric as players battled it out, drawing on their determination and skills to claim the big trophy!
From the moment the knockout challenge began, Stelios demonstrated his skill, agility, and strategic brilliance, together with his unique talent, seamlessly combining speed, accuracy, and speed to outperform his opponents.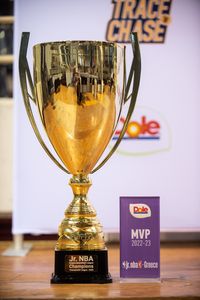 All participants went home with a previously won collectible NBA Champion set of the Golden State Warriors, courtesy of Panini America, while Stelios, the big winner, claimed a 2021-22 Panini NBA Hoops Basketball Retail Box together with a Tim Duncan replica Champion Ring!
The Jr. NBA Greece Final 4 in Thessaloniki witnessed a remarkable collaboration between Trace 'n Chase and the young basketball talent of the region. The event provided a platform for aspiring athletes to showcase their skills, learn essential values, and make lifelong memories. Trace 'n Chase's sponsorship played a vital role in elevating the tournament's standards and contributing to the overall success of the event and we couldn't be happier to add a unique competition like the Knockout Challenge to the event!
As the official sponsor of Jr. NBA Greece, we are thrilled with the response from the players, parents, and coaches and we are committed to organizing similar actions in the future in order to promote sportsmanship and provide young players with a stage to showcase and practice their skills, all while entertaining the audience!

Keep up with all products, blog posts and news posted on our website.
Follow us on Facebook, Linkedin, Twitter, Instagram and TikTok and subscribe to our YouTube channel!