With a new and exciting NBA season approaching it's the perfect time of the year to start recognizing some names that have been making a lot of noise already during the summer league in an event that is generally meaningless in the big picture but creates a lot of buzz in the card market industry as well!

This is shaping to be one of the strongest Draft classes in recent years and it's almost certain that a new crop of players will be creating millions of fans around the world while collectors will be getting into endless bidding wars in order to collect the cards of their favorite players!
All NBA fans have heard the names of Cade Cunningham, Evan Mobley, Jalen Green and Jalen Suggs, but what about the rest of the class and some young guns that have shown promise already?
Here is the All-Hype Preseason List:
Chris Duarte, Indiana Pacers, Age: 24
Summer League averages: 18.3 points, 4.0 rebounds, 3.8 assists, 2.5 steals and 1.8 blocks on 46 percent from the field and 48 percent from the 3-point line in 4 games and 27.0 minutes per game.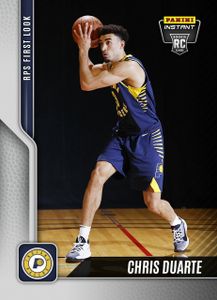 Season outlook: Duarte looked sharp, poised and extremely confident, dominating on both ends of the floor as one thing is for sure right now, he is not your typical rookie. The Pacers lost Doug McDermott in free agency and Duarte will be competing with Justin Holiday for backup guard minutes while rumors have it that Jeremy Lamb is on his way out of Indianapolis; add to that the fact that T.J. Warren and Caris Levert won't be ready to start the season and the rookie should get plenty of minutes right off the bat. Rick Carlisle is traditionally very tough with new players, but this is because most of them are young and lack the experience at this level; Duarte is not the fastest athlete but he is crafty and his shooting and defense on the wing will be of value since day 1.
Long-term appeal: Duarte is already 24 years old and he was the oldest player drafted this year which is interesting since teams up to recent years were looking to draft upside instead of ready-to-produce guys. He doesn't have such a high ceiling so, if everything goes well and he stays healthy, you should expect his cards to become popular immediately, even though he plays for a small market franchise.
Davion Mitchell, Sacramento Kings, Age: 22
Summer League averages: 10.8 points, 1.4 rebounds, 5.8 assists and 1.0 steal on 42 percent from the field and 47 percent from the 3-point line in 5 games and 24.8 minutes per game.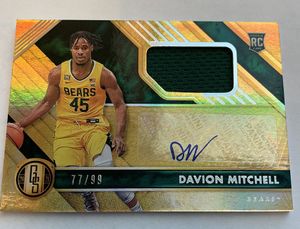 Season outlook: Plenty of insiders were surprised with Mitchell going as high as the No. 9 but he was one of the revelations of the Summer League showing to everyone why he is guy that is going to be a major problem. He played astonishing defense, he shot the ball very well from distance, he made plays for teammates but most of all he proved that he is a winning player. The Kings had a historically bad defense last year and even though they didn't need guard help they took Mitchell because his defensive-minded approach and relentless motor were exactly what the team lacked in previous years. Buddy Hield was nearly traded at the beginning of the offseason (but he is still around) and Sacramento is going to have to find minutes for him in a crowded backcourt but it's gonna be hard to keep him off the floor Long-term appeal: Scoring is not his forte but he is the type of player that could become a fan-favorite immediately, especially in a small market like Sacramento.
Trey Murphy III, New Orleans Pelicans, Age: 21
Summer League averages: 16.3 points, 7.0 rebounds, 2.8 assists, 1.8 steals and 1.3 blocks on 56 percent from the field and 44 percent from 3-point line in 4 games and 28.2 minutes per game.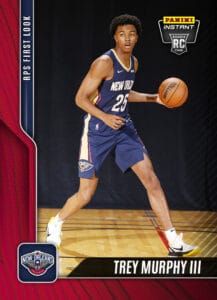 Season outlook: The Pelicans had a gaping hole at the wing for the last couple seasons and they tried to address this need with the Draft by selecting a late-bloomer in Murphy. He made the all Summer League first team showing tremendous length and versatility combined with above average quickness and athleticism around the basket, a quick release from behind the arc, surprising passing skills and the ability to defend effectively. The Pelicans are desperate for any production from their bench and they will be getting an infusion of talent making Murphy a guy to keep an eye on right off the bat.
Long-term appeal: 3-D players are extremely valued by NBA teams these days and Murphy has showed strong signs of being even better than expected so he is a good bet for long-term production, even with All-Star potential.
Jalen Johnson, Atlanta Hawks, Age: 19
Summer League averages: 19.0 points, 9.5 rebounds, 2.0 assists, 0.8 steals and 1.3 blocks on 57 percent from the field and 42 percent from the 3-point line in 4 games and 28.3 minutes per contest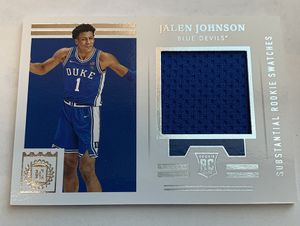 Season outlook: Johnson was rated as a five-star recruit and the No.13 overall recruit in the 2020 high school class but he slipped in this year's Draft since he was tagged a risky prospect due to his withdrawal from Duke midway through the college basketball season. He looked extremely comfortable and was very consistent for a guy who hasn't had a ton of game action in the last couple two years, playing above the rim, attacking in transition and hitting his shots. The 3-point shot is the biggest question mark and the Hawks are loaded in the middle so the playing opportunity won't be there at the start of the season unless injuries open up minutes for him.
Long-term appeal: The Hawks have one of the best young cores around the NBA and they decided to take a flier with Johnson who has immense upside. Summer League gave us a nice preview of what to expect from Johnson who seems to be a tremendous talent that will likely have a strong NBA career.
Alperen Şengün, Houston Rockets, Age: 20
Summer League averages: 14.5 points, 10.8 rebounds, 2.8 assists, 3.0 blocks and 1.3 steals on 43.2 percent from the field and 37.5 percent from the 3-point line.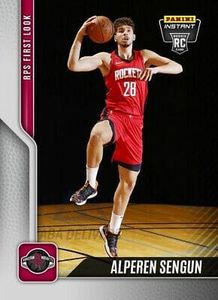 Season outlook:
Sengun created a good deal of buzz with his play at Summer League, and he was unsurprisingly quite productive after dominating in Turkey as a teenager. He shot just 43 percent from the field in four games, but averaged 14.5 points, 10.8 rebounds, 2.8 assists, 3.0 blocks and 1.3 steals, frequently finding his way to the foul line and making a big difference for the Rockets. Şengün has a diverse enough skill set to be a real piece of Houston's future, and it'll certainly find minutes for him as the rebuild gets moving this season and he was arguably the most impressive true big to take the court in Vegas.
Long-term appeal: The Turkish big is entering the season as an underdog for the Rookie of the Year award but his basketball IQ and skill set have made strides all over the league. The Rockets are expected to play their young guys a ton of minutes and Sengun looks poised to prove to the teams that passes him that they made a huge mistake.
Cam Thomas, Brooklyn Nets, Age: 19 years old
Summer League averages: 27.0 points, 2.0 assists, 1.8 rebounds and 1.3 steals on 42 percent from the field and 36 percent from the 3-point line in 4 games and 28.8 minutes per contest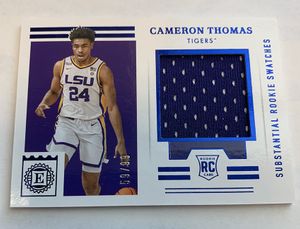 Season outlook: It should not surprise astute observers that the trigger-happy Thomas led summer league in scoring, averaging 27.0 points in four games on 42 percent shooting. There's no question Thomas can pile up points, and it's a positive sign that his ability to draw fouls translated equally strongly in Vegas (84 percent from the line on nearly 10 attempts per game). He made a few clutch shots, hitting all kinds of shots, from step-back jumpers to one-legged game-winning shots proving that he can fiat out BALL. The real test for Thomas will come when he's asked to adjust his style of play to fit alongside Brooklyn's stars.
Long-term appeal: There's no question that this version of the Nets is loaded with veterans and getting on the floor will be a challenge for Thomas in his rookie season. With that in mind he looks like a prime stash candidate due to the fact that he is a natural-born scorer that will get a chance somewhere in the immediate future and the early signs are that he can hold his ground in the majors.
Hidden Gems: (a couple under the radar guys)
Bones Hyland, Denver Nuggets, Age: 21 years old
Summer League averages: 19.8 points, 4.8 assists and 3.3 rebounds on 46.4 percent from the field and 40.0 from the 3-point line.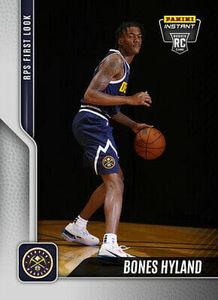 Season outlook: Hyland is a 6'3" guard that can play the point, but his college game seemed to mirror more of a two-guard and he acquitted himself well at Summer League, showcasing his shot-making skills and making fairly good decisions, averaging 19.8 points in four games and making 40 percent of his threes on nearly nine attempts per game. The Nuggets are enamored with his creative, unorthodox game, and he could be another find—it was actually his passing skills that stood out the most in this setting, and he's a much more unselfish, capable playmaker than he showed in college. While it may not be this season, he has a legit chance to be a useful bench scorer at some point.
Long-term appeal: The Nuggets are gonna be missing Jamal Murray for most of the upcoming regular season which will create an opportunity for Bones to play minutes immediately. He is an exciting player with an intriguing all-around skill set and one of my favorite guys to target since he has that "it" flavor in his game.
Sharife Cooper, Atlanta Hawks, Age: 20 years old
Summer League averages: 14.8 points, 7.3 assists and 1.5 rebounds on 46.3 percent from the field and 33.3 percent from the 3-point line.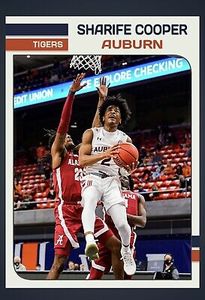 Season outlook: Cooper is a tiny point guard who struggled to shoot in college but he had the reputation of being one of the best playmakers in this draft class and he further proved that in Summer League. His 7.3 assists ranked first among all rookies and third to only Payton Pritchard (8.5) and Immanuel Quickley (7.8), two second-year players who played significant minutes as rookies last season. Cooper's most impressive game was his lone double-double, going for 21 points and 12 assists, making some ridiculous passes along the way.
Long-term appeal: Cooper only signed a two-way contract, and will likely spend most of his time in the G League but he reminds me of tiny point guards that have made a name for themselves in the league.
Thank you for reading our NBA Preseason special and keep up with all products, blog posts and news posted on our website.
Follow us on Facebook, Instagram, Twitter and subscribe to our YouTube channel!