The U15 and U14 basketball teams of Panerythraikos B.C. visited Thessaloniki recently in order to play a series of friendly games but they also enriched their experiences, combining the competitive part of the trip with the opportunity to visit the metropolis of basketball in Greece and Trace 'n Chase!
Kids born in 2007 competed against the local clubs of Machites-Peiramatiko B.C., YMCA, Aris B.C. and DEKA academy, while those born in 2008 participated in the Aris Basketball Program tournament, facing Aspida Xanthis Basketball Club, host team Aris B.C., Vardar Skopje and DEKA Academy.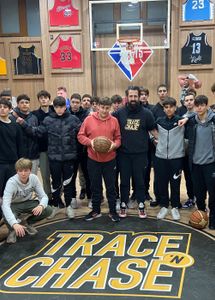 In a short break from their loaded schedule full of playing exhibition games, the youngsters of Panerythraikos had the opportunity to visit the venue of Trace 'n Chase where they received a thorough tour, learning about the magnificent world of collectibles, sportscards and memorabilia and about a wide range of sports personalities who contributed to the spread and development of basketball into what we know today, while all kids received custom-made repacks of NBA sports cards from Panini America!
Based in Athens, Panerythraikos has a long tradition in basketball with the team planning to develop their own application, the Follow App, in the next few years, an evaluation tool for all athletes which gives the complete report of the player, so that athletes know their strengths and weaknesses and can monitor the development in relation to their individual goals from the initial steps in the Academy up to the men's selection.
It was our pleasure to host the young boys of Panerythraikos B.C. and we look forward to more visits from sports academies in the future as we continue to spread the hobby all over Greece and Europe!
Keep up with all products, blog posts and news posted on our website.
Follow us on Facebook, Linkedin, Twitter, Instagram and TikTok and subscribe to our YouTube channel!