Efthimis Kioumourtzoglou, the head coach of the senior Greek national basketball team that won the silver medal at the 1989 EuroBasket together with former point guard Sotiris Sakellariou stop at Trace 'N Chase for a rare and juicy interview with host Vassilis Skountis. They take us behind the scenes with plenty of untold stories about the 1987 and 1989 EuroBasket, playing with and against Michael Jordan, learning the secrets of basketball by Dean Smith and much more!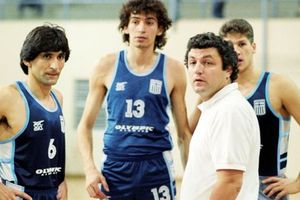 Efthymis Kioumurtzoglou is a basketball coach and emeritus professor at TEFAA of the Democritus University of Thrace with a specialization in Sports Education. He played basketball professionally with Iraklis B.C. while completing his bachelor at the School of Physical Education & Sports Science of the Aristotle University of Thessaloniki. His strong academic credentials helped him secure a scholarship from the Greek government and he subsequently moved to USA where he received his Master of Arts at the University of North Carolina (1983) and a Ph.D. two years later from the same institution, teaming up with legendary coach Dean Smith and experiencing the presence of Michael Jordan with the Tar Heels. Upon his return to Greece he quickly turned into basketball coaching, first with the Greek Junior National team and then, as an assistant to Kostas Politis with the Senior team, winning the 1987 EuroBasket and then taking over the reins as the heach coach of the Greek National Team which he guided in 123 games. He led Greece to the silver medal at the 1989 EuroBasket and to the 6th place in the World Championship in 1990, contributing to the establishment of Greece among the great powerhouses of European basketball, finishing 5th in the 1991 EuroBasket and 4th in the 1993 EuroBasket. In 1995 he took charge of Panathinaikos B.C. and led the team to the Final Four of Zaragoza where they won the 3rd place while he has previously coached PAOK B.C., Aris B.C. and Iraklis B.C.
Sotiris Sakellariou meanwhile played professional basketball with Iraklis B.C. and PAOK B.C., making his debut at the top level Greek Basket League, in October 1971. He was a member of the senior men's Greek national basketball team where he registered 127 caps, and he scored 566 points (4.5 points per game). With the senior men's team, he played at the 1975 and the 1979 EuroBasket and the 1980 European Olympic Qualifying Tournament, while he won the gold medal at the 1979 Mediterranean Games.
Stay tuned for more episodes from "The Show" by Trace 'N Chase coming soon…!
Keep up with all products, blog posts and news posted on our website.
Follow us on Facebook, Instagram, Twitter and TikTok and subscribe to our YouTube channel!