Former basketball rivals and best friends Stavros Elliniadis and Dinos Kalampakos visit Trace 'N Chase for another episode of "The Show" where a rich book of memories unveils; growing up in the neighborhoods of Athens, playing basketball for Panathinaikos and Olympiacos in the 80s, as well as coaching, managing, scouting and connecting with many players like David Ancrum, Milos Teodosic, Zarko Paspalj and Peja Stojakovic. Special appearance by Dinos' daughter, another professional basketball player, Aspa Kalampakou!
Subscribe to our channel and watch the full interview here:
Dinos Kalampakos first played with the senior men's team of Pagrati B.C. in 1979, at the age of 14, while he stayed with the club until 1990 when the team managed to gain its league promotion up to the top-tier level Greek Basket League. During that season, he was the team's second best scorer, behind Earl Harrison, with a scoring average of 20.4 points per game. In 1990, he transferred to the Greek club Panathinaikos, where he played until 1992. Over the next two seasons, he then played with the Greek club Sporting B.C. and in 1994 he returned to Pagrati, where he stayed until 1996, then spent the 1996–97 season with Ampelokipoi, before finishing his club playing career again with Pagrati in the 1997–98 season.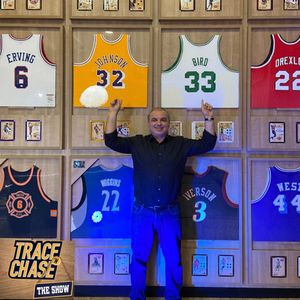 Kalampakos then began his coaching career with Pagrati, in the 1999–00 season, working as the assistant coach of Giorgos Nikolopoulos. From 2000 to 2006, he was the head coach of Platonas Schools, where he trained players like Nikos Gkikas, Ioannis Dimakos, Spyros Motsenigos, and Dimitris Cheilaris. In 2008, he became the head coach of ICBS and continued in this role after the club merged with Peramatos Ermis. During the 2012–13 season, he was the head coach of Polis Kallitheas and Papagou, before returning to Pagrati's head coaching position where he stayed until 2016, being awarded as the league's top coach. Next year he was hired to be the head coach of Koroivos Amaliadas, of the Greek Basket League, followed by a stint with Ionikos Nikaias as a technical manager before becoming the head coach of Charilaos Trikoupis and winning the promotion to the Greek A1 Division. He recently agreed with A.O. Agrinio of the A2 Greek Basketball Division where he will be the head coach for the 2022-23 season.
Stavros Elliniadis meanwhile begun playing basketball with the historic club of Peiraikos from a young age, remaining until 1988, before transferring to Olympiakos Piraeus, where he stayed for about four years and won a Greek Championship in 1993, managing to reach the quarter-finals of the Korats Cup in 1989 as well as the quarter-finals of the EuroLeague in 1993. After retiring, he assumed the role of team manager with Peiraikos, Panionios B.C., Olympiacos B.C., Marousi B.C., Ikaros of Kalithea, Chalkida, Koroivos, Faros, Ionikos B.C. and Aris B.C. He has made several appearances with all levels of the Greek National Basketball Team and specifically 13 with the Children's Team, 23 with the Youth National Team and 16 with the Men's National Team.
Stay tuned for more episodes from "The Show" by Trace 'N Chase coming soon…!
Keep up with all products, blog posts and news posted on our website.
Follow us on Facebook, Instagram, Twitter and TikTok and subscribe to our YouTube channel!