Savvas Iliadis, a former basketball guard in the Greek Basketball Division I stopped by Trace 'N Chase recently to discuss his experience playing at the top level for many years and his new role as a Head of the Basketball Academies for boys and girls with the team he kicked off his career, Aias Evosmou B.C., based in Thessaloniki.
A big fan of LeBron James, Iliadis started his professional career playing with Aias Evosmou B.C. before transferring to Iraklis B.C. where he stayed for 3 years, winning the third place in the Greek Division I Championship in the 2003-04 season. In 2005, he transferred to Panionios B. C., while he participated in the Mediterranean Games as a member of the Greek National Team, winning the silver medal.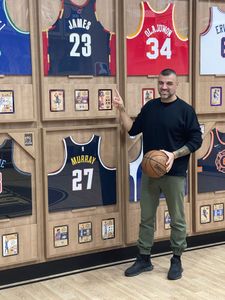 A year later he began his three-year tenure at Aris B.C. where he won the third place in the 2006-07 championship and played in the EuroLeague and the ULEB Cup. Savvas vividly remembers playing against Nic Batum and Le Mans for the EuroLeague, with the French swingmen telling him and the rest of the team how he was going to be a starter in the NBA in the upcoming years!
Iliadis then went on to play for Kavala B.C. and Iraklis B.C. again before moving on to the Division II with Ermis Lagadas and completing his career with the team he started playing basketball, Aias Evosmou.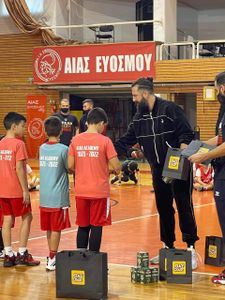 Savvas was recently appointed as the Head of Basketball Academies for boys and girls for Aias Evosmou B.C. and he has been working tirelessly with his staff in the last few months in order to help with the development of the new generation of basketball players in Greece. Trace 'N Chase was honored to be invited this past weekend to the Evosmos Municipal Athletic Center where our PR Manager Tony Moumoglou had the opportunity to hand out stacks of basketball cards to the young boys and girls of the academy who got introduced to the hobby!
Keep up with all products, blog posts and news posted on our website.
Follow us on Facebook, Instagram, Twitter and TikTok and subscribe to our YouTube channel!