For the second consecutive year, Trace 'n Chase is a proud official sports memorabilia partner for "Sharing is Caring", the biggest online charitable auction in Greece that commences on Tuesday 22nd of November and will run until the 4th of December. More than 50 sports memorabilia items of Greek and International top athletes, world stars, Hall of Famers and teams will be auctioned through silent auctions and all the money collected will be distributed equally to 10 Non-Profit Organizations – CSR Partners.
The online charitable auction that will host a plethora of signed sports memorabilia by world-class athletes, hall of famers and ambassadors of Navarino Challenge, Europe's best awarded wellness program & 2nd best worldwide, will offer the chance to worldwide sports fan to bid and to acquire the following very special items:
A Mitchell & Ness Philadelphia 76ers Authentic Signed Red Pro Jersey by Hall of Famer Julius "Dr. J" Erving
A 1984-85 Mitchell & Ness Hardwood Classics Swingman Purple Jersey with the inscription "Showtime", signed by Magic Johnson of the Los Angeles Lakers
A 1996-97 Mitchell & Ness Hardwood Classics Swingman Gold Jersey signed by Shaquille O'Neal
A Mitchell & Ness Authentic Signed Swingman Jersey by Gold Olympic Medalist and NBA All- Star Vince Carter of the Toronto Raptors
A Wilson Panini Authentic Signed Basketball by Luka Doncic of the Dallas Mavericks
A Mitchell & Ness Authentic Signed Jersey by NBA MVP Allen Iverson of the Philadelphia 76ers
A 2019 Milwaukee Bucks Nike City Edition Swingman Jersey signed by Giannis Antetokounmpo
A Giannis Antetokounmpo, Milwaukee Bucks Signed Spalding Basketball
A Portland Trailblazers Mitchell & Ness Authentic Jersey signed by 2x NBA Champ Clyde Drexler
A Kyrie Irving Authentic Signed Brooklyn Nets Nike Black Swingman Jersey
A Dallas Mavericks Mitchell & Ness Blue Swingman Jersey signed by Dirk Nowitzki
A Floyd Mayweather Jr. Autographed Everlast Vintage Boxing Glove with a "50-0" inscription, authenticated by TRISTAR
A Muhammad Ali Autographed Everlast Boxing Glove, authenticated by Beckett
A Sylvester Stallone (Rocky) Autographed Everlast Boxing Glove, authenticated by Fanatics
A Mike Tyson Autographed Everlast Boxing, authenticated by Beckett
A Spalding basketball signed by former professional athletes Dimitris Diamantidis, Evina Maltsi, Giorgos Printezis and Joe Arlauckas
A Spalding basketball signed by EuroLeague winner and European Champion with the Greek National Team, Nikos Zisis
A Spalding basketball signed by the European Champion with the Greek National Team, Fanis Christodoulou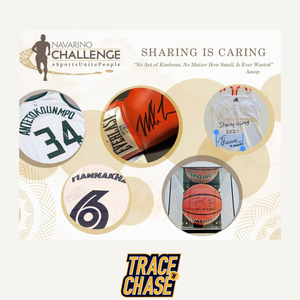 Silent Auctions will begin on Tuesday, November 22nd, and will end on Sunday, December 4th. By entering www.navarinochallenge.com/auctions, participants will be able to place any kind of bid for the item they wish to acquire via e-mail with no payment required. Each user who takes part in the process remains anonymous. On Sunday December 4th at the end of the auctions, all e-mails of participants will be opened and checked. The highest bidders will be the winners of the respective items. The announcement of the winners will be made on the event's social media platforms, as well as with personal information about the payment method. Payments will be made directly to the institutions and the winner will have a specific period of time to deposit the money. Upon confirmation of the deposit by the non-profit institution, the organizer will inform the winner on how to receive the won item. In the event of the first winner not paying the amount within the specified period of time, then the winning place will be taken by the participant with the next highest bid.
A big thank you to ActiveMedia Group and to Navarino Challenge for carefully organizing such a tremendous initiative!

Keep up with all products, blog posts and news posted on our website.
Follow us on Facebook, Linkedin, Twitter, Instagram and TikTok and subscribe to our YouTube channel!