Trace 'n Chase had the opportunity to host a unique event during the weekend of February 4-5, as 30 youth teams from around Thessaloniki showed up at Europe's top Sports Cards and Memorabilia shop in order to pick up their official jerseys for the Jr. NBA Greece tournament, all while exploring and discovering the exciting world of sports cards collecting.
Once the youth teams arrived one by one, the players together with their coaches were led inside the store where, after they were given a tour of the shop and a short introduction to the world of trading cards, they were presented with their brand new shining NBA jerseys. Each athlete was given a personalized NBA jersey with their number on the back, which they put on immediately to the delight of the parents attending!
The Jr. NBA League is the official recreational youth basketball league of the NBA and WNBA that uses core values—teamwork, respect, determination and community—to teach fundamental skills. It is professionally curated directly from the NBA and WNBA, giving youth athletes the very best foundation to improve their game, discover the importance of sportsmanship, and participate in organized team play while developing a lifelong passion for the game of basketball in boys and girls ages 6-14.
After gathering all together and getting a team picture with their jerseys on, all kids received a free hanger pack of 2021-22 Panini America cards, which added to the excitement of the event! Immediately afterwards, a trading game started with kids looking to trade for their favorite players and teams! Many former professional basketball players and current academy coaches like Giorgos Maslarinos, Thodoros Asteriadis, Petros Oxouzis, and Antonis Asimakopoulos were also present during the event, keeping up with their goal of sharing their love for basketball with the next generation of talent!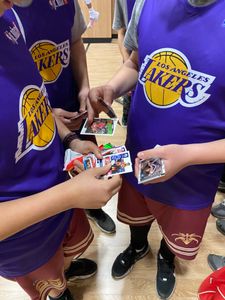 As the event came to a close, the players and coaches thanked the Trace 'n Chase crew for their support. The event was a huge success and left a lasting impression on all those who were able to attend, as it was a memorable day for the kids and a great opportunity for the local teams to showcase their future talent and connect with the magic world of the NBA!
Trace 'n Chase, the biggest sports cards and memorabilia shop in Europe is an official sponsor of Jr. NBA Greece and will be present throughout the season, helping increase the visibility of the NBA in Greece while attracting more young players and their families to the best league on the planet!

Keep up with all products, blog posts and news posted on our website.
Follow us on Facebook, Linkedin, Twitter, Instagram and TikTok and subscribe to our YouTube channel!