Trace 'N Chase had the pleasure to connect with EuroLeague legend and Navarino Challenge ambassador Joe Arlauckas at the Greek Maritime Golf Event, the renowned golf tournament for the Greek and world shipping industry that took place at Costa Navarino this past weekend in Messinia (September 3rd – 5th, 2021).
Arlauckas played four years of college basketball at Niagara University in the NCAA Division I before getting drafted with the No. 74 pick in 1987 by the Sacramento Kings. During his sole season in the NBA, Arlauckas appeared in nine games, averaging 4.0 points per game, in roughly 10.0 minutes of play per game before moving on to Italy with Snaidero Caserta where he won the Italian Cup.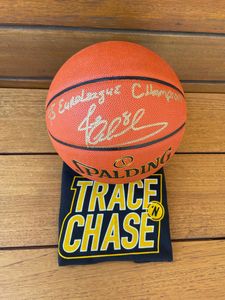 He then moved on to Spain where he spent a decade playing in the top-tier level with Caja de Ronda, Taugrés, and Real Madrid, winning several individual and team accolades playing along center Arvydas Sabonis.
Arlaickas specifically won the Spanish Cup in 1993 where he was the MVP of the tournament and he was also the Spanish League champion in the 1993–94 season, the FIBA European League (EuroLeague) champion in the 1994–95 season, the FIBA European League (EuroLeague) Top Scorer trophy in the 1995–96 season and the FIBA EuroCup (FIBA Saporta Cup) champion in the 1996–97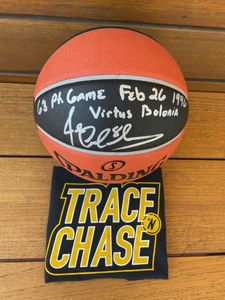 season. He is well-known for holding the record for the most points scored in a modern-era single EuroLeague game, registering 63 points in a FIBA European League (EuroLeague) game, while playing for Real Madrid, against Virtus Bologna, during the 1995–96 season, on February 26th of 1996.
In six seasons playing in Spain, Arlauckas scored 7,543 points in the Liga ACB, for a scoring average of 20.7 points per game. After playing two years in Greece with the Greek top-tier level Basket League clubs AEK Athens and Aris Thessaloniki he retired in 2000 and became a sports commentator, working for EuroLeague TV. He is also the host of his own Podcast where every week he sits down with some of the biggest names in European basketball – past and present – to learn more about their lives on and off the hardwood.
Joe was kind enough to sign a few basketballs with his many accolades from his illustrious career that will be added to our memorabilia collection at Trace 'N Chase!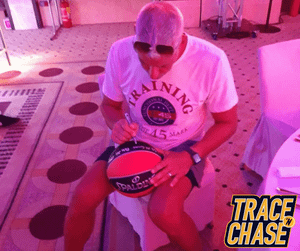 Keep up with all products, blog posts and news posted from Trace 'N Chase at our website.