Kostas Mexas, a basketball coach that belongs into a very promising pool of upcoming Greek coaches was the latest visit at Trace 'N Chase recently!
Coach Mexas started his involvement with coaching from a very young age, taking over the team of S.C. Chortiatis at the age of just 21 years old for a period of five and a half years (1997-2003). He then worked as an assistant coach with the Greek Basket League club of Ampelokipoi B.C. in 2003 before becoming the head coach of two women's teams from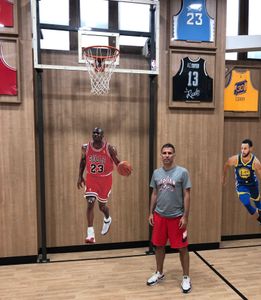 2004 until 2006, first with G.S. Megas Alexandros and then with B.C Kastoria. Following that he returned to men's basketball, becoming the head coach of the Greek club MENT B.C in 2006 and until 2008, Iraklis B.C. (2008-11), and an assistant with KAOD for the next four years (2011-15) before becoming the team's head coach in the 2014-15 season. He continued as the head coach of Apollon Patras B.C. (2015-17) and Trikala Aries B.C. (2015-17), while in the 2018-19 season he was instrumental as the head coach of Iraklis B.C in achieving the team's promotion to the A1 Greek Basket League, the country's top division. He then moved on to PAOK B.C. in 2020 as the head coach of the team in a turbulent season that was grossly affected by the coronavirus pandemic.

Keep up with all products, blog posts and news posted on our website.
Follow us on Facebook, Instagram, Twitter and subscribe to our YouTube channel!