Europe's top sports tourism and wellness event, Navarino Challenge, celebrated its 10th anniversary on the weekend of October 21-23, presenting a schedule of more than 40 activities, 16 Olympic sports and 15 Olympians at Costa Navarino and Trace 'N Chase was there, spreading the knowledge about the hobby and gifting sports cards to boys and girls that participated in basketball and soccer clinics!
With the central message, "Sports Unites People" and embracing the purpose of the Olympic Movement, this year's Navarino Challenge had more than 3,000 participations, with people of all ages, from 1 month to 90 years old as well as people of all abilities, with more than 20 athletes with disabilities, who participated in the activities, in a full schedule that hosted the participants at The Westin Resort Costa Navarino.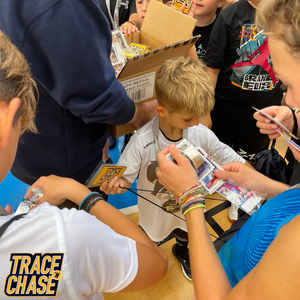 On Saturday, a basketball Clinic for boys and girls 5-16 years old took place with 3× EuroLeague champion Dimitris Diamantidis, 2× EuroLeague champion Giorgos Printezis, together with Women's EuroBasket MVP Evina Maltsi & EuroLeague Legend Joe Arlauckas at the indoor basketball hall. Kids were able to get a good practice and to pick up a few tricks from some of the best in the business who kept the training and the methods of learning interesting, engaging the participants to fun drills while also pushing them to become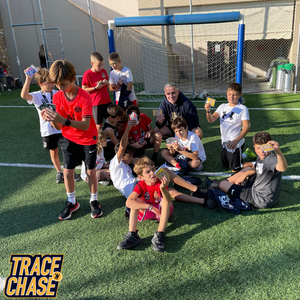 more disciplined by building their skills and techniques. At the end of the event we were glad to reward all the participants with sports cards repacks from Trace 'N Chase, as well as a few Panini America Golden State Warriors 2022 NBA Finals Champions 30 Card Team Sets to all the winners of the competitive drills that were organized by the coaches!
Additionally, for the first time during the event of the Navarino Challenge, football was included in its schedule, with the Tsimikas Football Clinics powered by Prosport taking place with the signature of the top international football player of Liverpool FC and the Greek National Team, Kostas Tsimikas. Children aged 5 to 17 participated in a two-day training session operated by popular Greek coach George Simos who taught the kids some of Kostas Tsimika's favorite habits. All participants also received soccer sports card repacks, while highlights of the Football Clinics included the online presence of the Greek Star from Liverpool, who sent his own message to his little friends as well as the physical presence of Paschalis Tountouris, the Founder and CEO of Prosport Sports Agency!
Photo credit: Navarino Challenge
Keep up with all products, blog posts and news posted on our website.
Follow us on Facebook, Linkedin, Twitter, Instagram and TikTok and subscribe to our YouTube channel!