Sports unite people and we were blessed to be present at Costa Navarino on the weekend of October 15-17, supporting the #navarinochallenge and connecting with a ton of amazing Champions and LIFE winners.
An internationally recognized endurance athlete and NY Times bestselling author, Dean Karnazes has pushed his body and mind to inconceivable limits. Among his many accomplishments, he has run 350 continuous miles, foregoing sleep for three nights, run across Death Valley in 120 degree temperatures and to the South Pole in negative 40 degrees.
His most recent endeavor was running 50 marathons in all 50 US states, in 50 consecutive days, finishing with the NYC Marathon, which he ran in three hours flat.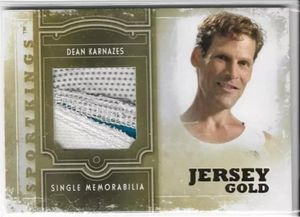 Other athletic achievements include:
Winner, Vermont Trail 100 Mile Endurance Run, 2006
Overall Winner, 4 Deserts Race Series, 2008
American Ultrarunning Team, World Championships, 2005, 2008
148 miles (238 km) in 24 hours on a treadmill, 2004
Eleven-time 100-Mile/1 Day Silver Buckleholder at the Western States Endurance Run (i.e., better than ten twenty-four-hour finishes), 1995–2006
Ran 3,000 miles (4,800 km) across the United States from Disneyland to New York City in 75 days, running 40 to 50 miles (65 to 80 km) per day, 2011.
Swimming across the San Francisco Bay
TIME magazine has named him as one of the "Top 100 Most Influential People in the World" and Men's Fitness hailed him as one of the fittest men on the planet. Dean and his incredible adventures have been featured on 60 Minutes, The Late Show with David Letterman, CBS News, CNN, ESPN, The Howard Stern Show, NPR's Morning Edition, the BBC, and many others.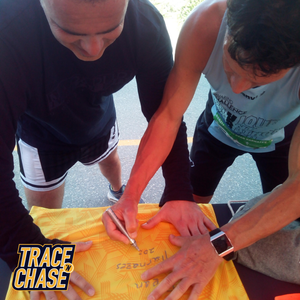 He is the author of 4 books, Ultramarathon Man, 50/50, RUN! and The Road to Sparta. His latest book is, A Runner's High.
Dean was kind enough to put his signature on the Trace 'N Chase jersey after running in the half marathon at Navarino Challenge and we look forward to seeing him again in the near future and have him sign even more sports memorabilia!
Keep up with all products, blog posts and news posted on our website.
Follow us on Facebook, Instagram, Twitter and subscribe to our YouTube channel!