The world of collectibles, trading cards and memorabilia has always been a fascinating realm for hobby enthusiasts in Germany and the German Cards & Collectibles Show in Frankfurt played host to this vibrant community during the first week of September at an event sponsored by Trace 'n Chase full of collectibles, connections, and celebrations!
On the weekend of September 2-3, the sprawling Süwag Energie Arena in Frankfurt am Main transformed into a collector's paradise. The event attracted enthusiasts, collectors, and vendors from all over Europe, showcasing a vast array of collectibles, trading cards and sports memorabilia!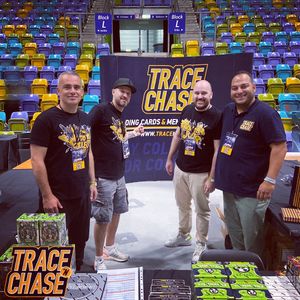 As a Gold sponsor, Trace 'n Chase made a significant impact at the event. Our booth was a focal point of the show, attracting attendees due to the numerous products and an impressive range of wax on display for basketball, football, soccer and MMA enthusiasts!
One of the highlights of the weekend was the opportunity for Trace 'n Chase to sponsor the "Box Breaking Area", a designated area for box breaking where a roster of guest appearances, including renowned breakers and trading card aficionados had the chance to rip some wax and gain useful insights, ask questions, and learn from the best in the business!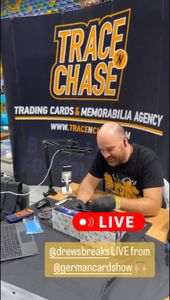 The German Cards & Collectibles Show wasn't just about collectibles; it was about the people.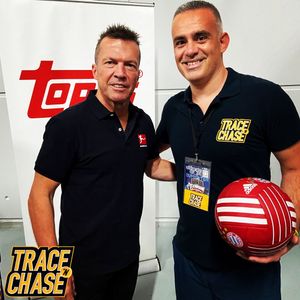 Trace 'n Chase recognizes the importance of fostering a sense of community within the collectibles world and we were happy to see our booth became a hub for collectors to connect, share stories, and make new friends who shared an identical passion for sports cards and memorabilia!
The stars didn't shy away from showing up also, as German soccer legend Lothar Matthäus, German-American professional American football defensive end Kasim Edebali and hobby superstars @croatiantwins and @artisbullshit all spent time with the many sports fans that were around! Lothar was also kind enough to sign an Adidas FC Bayern Munich soccer ball.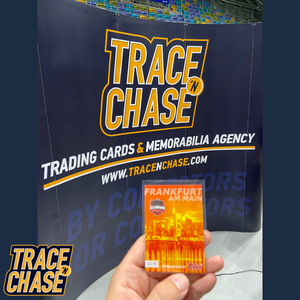 Trace 'n Chase, a renowned name in the world of collectibles, has always been driven by a dual passion for collecting and sports. We understand the thrill that comes with acquiring cherished memorabilia and we have made it our mission to share this excitement with collectors worldwide, therefore, we were glad to also sponsor a thrilling basketball tournament! The event led to an epic showdown where the top performers battled for a coveted prize – the "Finders Keepers" Jersey Repack – Basketball Legends Gold Edition mystery box powered by Fanatics!
Our presence as a Gold sponsor at the German Cards & Collectibles Show in
Frankfurt, Germany, was a resounding success. This event was a reminder of the joy and camaraderie that collecting brings to people's lives. As we look forward to the next edition of this spectacular event, we can't help but be excited about what Trace 'n Chase has in store for collectors and enthusiasts around the world.
Keep up with all products, blog posts and news posted on our website.
Follow us on Facebook, Linkedin, Twitter, Instagram and TikTok and subscribe to our YouTube channel!