In another visit at local sports academies, Trace 'N Chase had the pleasure to show up at the facilities of "Nikoloudis Soccer Playing Fields", operated by former professional soccer player Takis Nikoloudis. The soccer academies of Ajax Stars Thessaloniki and Aineias were glad to learn about the hobby of collecting sports cards and the kids were totally excited to receive card repacks of their favorite soccer players like Ronaldo, Mesi, Neymar Jr. from Panini America!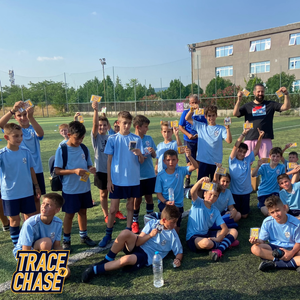 The Ajax Stars Thessaloniki Academy was created in collaboration with the AFC Ajax Academy. It is an innovative coaching tool,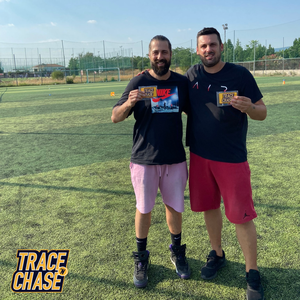 which provides a complete, structured and progressive training program for clubs, coaches (certified and non-certified) and players. It is based on the level and philosophy of the Ajax model, which represents the technique, the acumen, the personality and the speed, thus aiming at the quality upgrade of Greek football. AFC AJAX is one of the most popular and successful football clubs in the world, holding many trophies both nationally and globally. Officially, it has been recognized as one of the best clubs of developmental age academies in the world, continuously supplying the European football with international players. Ajax's team is a pole of attraction for Greece, due to the origin of its name from Aiadas, a hero of the Trojan War. The academy is operating for children aged 6 to 17 years and the training sessions take place at "Nikoloudis Soccer Playing Fields" in the area of Pylaia – Charilaou.
Aeneas Football Academy, also based in Thessaloniki is aiming at the development of children aged 5-17 years and the head of the program in charge of nurturing future stars is Apostolos Mastranestis, who has coached and developed some of the greatest talents who are currently playing or are expected to play both inside Greece and outside the country, including Theocharis Tsingaras of PAOK F.C. and Vangelis Pavlidis of AZ Alkmaar of the Eredivisie Dutch soccer league.
We want to thank Aris Nikoloudis and all the coaches involved for the opportunity to gift soccer cards to the youngsters and we promise to be back soon and hand over more cards to even more kids in the future!
Keep up with all products, blog posts and news posted on our website.
Follow us on Facebook, Instagram, Twitter and subscribe to our YouTube channel!