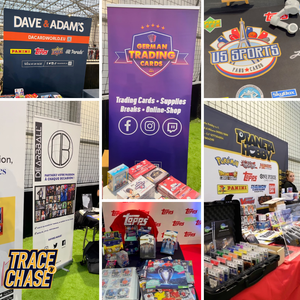 Trace 'N Chase was present at the Paris Card Show this past weekend, the biggest card exhibition for sports cards in France and one of the biggest in Europe in a setup with more than 60 tables (collectors and shops) at an event where conferences, contests, signing sessions and a lot of discussions about the hobby with collectors from France and all over the world took place!
Organized by Thierry Lardoux, an avid collector that begun collecting cards in 1997 (growing up as a fan of Grant Hill and Stade Rennais F.C., the soccer team of his hometown Rennes in France), Paris Card Show, an event that as been in the works for ten years, took place at Le Five, a multipurpose indoor arena that hosts recreational soccer leagues. The participation exceeded all expectations with more than 400+ collectors, vendors and sports fans stopping by, with appearances from NBA television personalities in France and former members of the France men's national basketball team like Frédéric Weis!
GTS Distribution Europe, Potes Cartes, German Trading Cards, Topps France, US Sports Fans Cards, Dave & Adams Europe and Pianeta Hobby DearBBall were some of the industry professionals that attended the event as well as no other than 2x Beckett Kobe Supercollector & Co-Founder of BBrothers Kiki.
Keep up with all products, blog posts and news posted on our website.
Follow us on Facebook, Instagram, Twitter and TikTok and subscribe to our YouTube channel!