In recent years, fantasy football has become a popular pastime for sports enthusiasts around the world as the game allows fans to take on the role of a manager and build their own dream team of professional football players!
Trace 'n Chase was ecstatic to bring together, for the first time ever, Greece's most hardcore fans in the first ever celebrity fantasy football league where avid NFL followers competed against each other for a one-of-a-kind sports memorabilia as the big prize!
The league featured a total of 14 teams, with a few celebrities involved, including longtime sports journalist Dimitris Karydas, DJ Rico from longtime popular band "Going Through", box breakers Drew and Anastasios from Drew's Breaks and Kakuzo Breaks, Stephanie from the biggest NFL community in Greece, NFL Greece, Marios from another popular NFL Group in Greece, NFΕLΛΗΝΕΣ, as well as Ioannis, George, Dimitris and Dio from the Trace 'n Chase team!
The draft took place a few days before the beginning of the regular season, generating a lot of excitement among NFL sports fans in Greece, with Christian McCaffrey, Jonathan Taylor and Justin Jefferson being (not surprisingly) the top 3 picks. Trace 'n Chase was happy to announce the big trophy for the winner of the league, offering the selection of a signed helmet by either Kyle Pitts, Jonathan Taylor or Justin Jefferson, raising the stakes and providing grounds for bragging rights!
An extremely competitive regular season resulted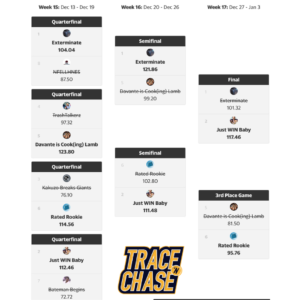 in a five-team tiebreaker between seeds #6 and #10 with only the top-8 teams though securing a ticket in the playoffs! Other than Ioannis (the #6 seed) upsetting #3 seed Kakuzo Breaks, seasoned veteran "Exterminator" (the No. 1 seed), Dio from TnC (the No. 2 seed) and Dimitris from TnC (the No. 5 seed) stormed past into the second round, with Dio and Exterminator squaring off in the Final.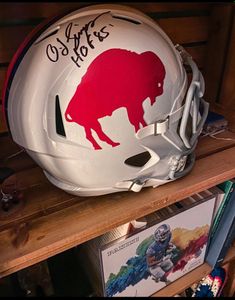 The brutal and unexpected interruption of the Bills-Bengals game had a ripple effect in fantasy football playoffs but, thanks to the generosity of Trace 'n Chase, both Finals participants were awarded with a prize, in a happy end scenario that left everyone happy!
The first ever celebrity fantasy football league in Greece was not only a fun way to combine two popular cultural phenomena, but it also raised awareness and interest in the game of American Football. By involving celebrities and generating media attention, the league was able to bring attention to the sport and showcase the talents of some of Greece's most popular fantasy football personalities, with Trace 'n Chase always happily involved in sports-related events!
Keep up with all products, blog posts and news posted on our website.
Follow us on Facebook, Linkedin, Twitter, Instagram and TikTok and subscribe to our YouTube channel!