EuroLeague Basketball and Panini America, a subsidiary of the Panini Group, global leader in trading cards and collectibles reaching 150 countries and territories, announced a multi-year landmark partnership that makes Panini the Official Trading Card partner of the EuroLeague and will bring basketball fans an unparalleled collectible experience. This collaboration, set to revolutionize the world of sports card collecting, will see the creation of an exclusive Turkish Airlines EuroLeague card collection, offering fans a chance to connect with their favorite athletes in a whole new way.
The first EuroLeague trading cards will launch via Panini's real-time Panini Instant product to celebrate the key EuroLeague performances as they happen. Basketball fans can look forward to stunning card designs featuring the best EuroLeague players, showcasing their skills, athleticism, and passion for the game across four of Panini's most popular brands, beginning with Panini Instant and followed by Donruss EuroLeague, Prizm EuroLeague and Crown Royale EuroLeague.

The collections will include a range of limited-edition cards, making each card a unique and valuable item for collectors, including autographed cards, memorabilia cards, and rare inserts. Donruss will feature compelling action photography and the popular Downtown! insert; Prizm, meanwhile, will deliver its trademark arsenal of Prizm parallels and the spectacular Color Blast chase before introducing the Crown Royale brand.
Turkish Airlines EuroLeague collection will be available globally on Panini's official website."We are excited to partner with Panini, a company known for its commitment to quality and innovation." said, Paulius Motiejunas, Euroleague Basketball CEO . "This collaboration will allow us to bring the passion of the Turkish Airlines EuroLeague to collectors and fans representing an incredible opportunity for us to build iconic products that will captivate audiences globally and boost the engagement with the EuroLeague fans."
"We look forward to working with the EuroLeague to showcase its players and deliver some of our most popular trading card brands to EuroLeague fans – giving them something special to collect that features their favorite teams and players," said Mark Warsop, CEO of Panini America.
About Euroleague Basketball
Euroleague Basketball (EB) is a global leader in the sports and entertainment business, devoted to running the top European competitions of professional basketball clubs under a unique and innovative organizational model. Owned and administered by some of the most successful and historic clubs in the world, EB manages the continent's two premier men's basketball competitions, the Turkish Airlines EuroLeague and the BKT EuroCup, as well as the sport's premier under-18 showcase, the EB Adidas Next Generation Tournament.
The EB competitions bring the elite of European basketball to all five continents and to the entire sports community through the OTT platform EuroLeague TV. EB also organizes a series of community and educational activities, led by the One Team program, in alignment with the United Nations Agenda 2030 Sustainable Development Goals. On the academic side, the EB Sports Business MBA trains future professionals in sports management.
About Panini America
Panini America is a subsidiary of The Panini Group, established over 60 years ago in Modena, Italy with subsidiaries throughout Europe, Latin America and the United States. Panini is the world leader in officially licensed collectibles and is the most significant publisher of collectibles in the U.S., with official licenses for NFL, NFLPA, NBA, NBPA, NASCAR, FIFA, UFC, WWE, College, Disney and other key properties from many other licensors. Panini is also the exclusive trading card and sticker partner of the Pro Football Hall of Fame, Naismith Memorial Basketball Hall of Fame, Elite 11 and Pop Warner Little Scholars, Inc.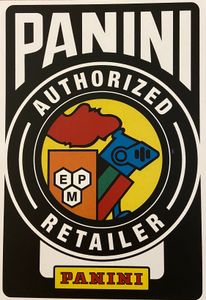 Trace 'N Chase is a proud Panini Authorized Retailer, carries a wide lineup of trading cards and will happily offer EuroLeague products when they become available!
Keep up with all products, blog posts and news posted on our website.
Follow us on Facebook, Linkedin, Twitter, Instagram and TikTok and subscribe to our YouTube channel!