Lazaros Papadopoulos, one of the most successful big men of the modern era of European Basketball, paid a visit to Trace 'N Chase last week, showcasing some of his low-post moves and learning about the hobby of basketball cards and its development in Greece.
Lazaros was born in Krasnodar, Russia in 1980 but he moved to Thessaloniki with his family at the age of 10 and joined the academies of AO Stavroupolis where he flourished under the guidance of George Gagas and Lefteris Hatzikyriakidis.
He moved on to G.S. Iraklis BC in 1996, the same year he was called up to the U-18 Greek National Team, and had the chance to be a part of the first a European team that participated in the NBA's Utah Summer League. While with Iraklis, he developed rapidly under Tom Newell, a legendary American Coach pioneer who run for years the "Five Stars' training camp for big men like Patrick Ewing, Kareem Abdul Jabar and Hakeem Olajuwon. Not surprisingly, Lazaros idolized Patrick Ewing, recording multiple tapes of his game and practicing all his moves while growing up.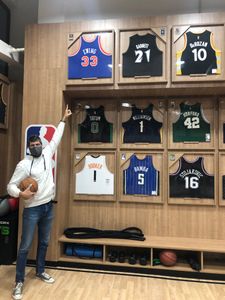 Lazaros played professionally for 18 years with Iraklis, Panathinaikos, Olympiakos, PAOK, Dynamo Moscow, BC Khimki, Real Madrid, Fortitudo Bologna and CB Gran Canaria. He won all major titles (2 EuroLeagues, 1 Uleb cup, 2 Greek Basket League Championships, 1 Greek Basketball Cup, 1 VTB League Championship), becoming well-known for his signature skyhook move and skilled passing in the low-post. A regular with the Greek National Team he won the gold medal in the 2005 EuroBasket while he was the runner-up of the 2006 FIBA World Championship in Japan after team Greece upset Team USA in the semifinals.
Lazaros led the Panhellenic Association of Paid Basketball Players for three years, while in September 2011, together with Nikos Chatzivretas, Dimitris Diamantidis and Costas Charalambidis, they founded the basketball academy under the name GBA (Greek Basketball Academy).
Since the summer of 2014 he has been actively involved in the field of IT startups and sports where he has founded the company Athlenda SA. In 2019, the municipal of Pavlos Melas unanimously voted for the Municipal Basketball Court to be permanently renamed to "Lazaros Papadopoulos Arena".
We look forward to Lazaros joining us soon for even more basketball stories from his long career all over Europe!
Keep up with all products, blog posts and news posted on our website.